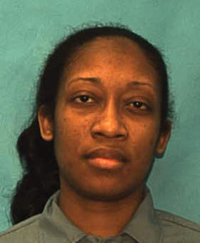 In August 2010, nine days she gave birth, Marissa Alexander fired a warning shot to keep her abusive estranged husband, Rico Gray, from attacking her.
The bullet hit a wall. Nobody was hurt.
Rico Gray admitted that he threatened to kill Marissa Alexander.
But she was prosecuted for aggravated assault with a deadly weapon, convicted, and sentenced to 20 years in prison.
Alexander was awarded a new trial because of a procedural error. In the retrial, the prosecutor a woman wanted to go for a sentence of 60 years. So Alexander took the plea deal of two years of house arrest, wearing a GPS ankle bracelet.
She got out of jail last week.
The outrageous case sparked widespread protests, both online and in the streets. Following is some of the commentary:
Leonard Pitts Jr: Travesty of justice over warning shot, on MiamiHerald.com.
Victoria Law: Why is marissa Alexander still being punished for fighting back? on TheNation.com.
Leslie Salzillo: 5 more women accuse Marissa Alexander's abusive husband of brutal abuse, on DailyKos.com.