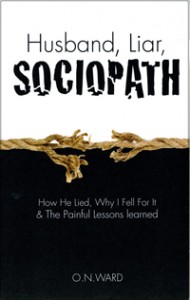 Every week, a chapter of my book, "Husband, Liar, Sociopath: How He Lied, Why I Fell For It & The Painful Lessons Learned" (available via Amazon.com, just click on the title or book cover) will be published here on Lovefraud. To read prior chapters, please see the links at the bottom of the post.
Chapter 28: All The World's A Stage—To A Sociopath
I researched marital therapists, searching for a male counselor (hoping to make Paul more comfortable) with an office near Paul's work so appointments would be minimally disruptive to his stressful, all-consuming job. And so the charade began.
Marital talk therapy with a sociopath is like an art appreciation lecture for the blind. Those who have unknowingly taken this path with a sociopathic partner are doomed to their own personal version of Gaslight, an eerie sense of unreality, a gnawing sense that something is "off" that you can't quite articulate, all topped with a healthy dose of self-doubt. Talk therapy is a stage for a sociopath, and Paul's performance was brilliant. Paul knew me inside and out. To him, it would be a fun game and easy to win. He had no intention of playing by the rules. He did not want to make our relationship better; he wanted to win and to make me more pliable. I was already emotionally and physically drained, so his victory was all but assured. The only question was how long he would find the game entertaining.
My goal in therapy was to heal a strained marriage in which I felt there was no "we," just Paul, with me functioning as an apparently incompetent, underappreciated stagehand to a performance in which he was both director and star. To do this, I knew I would have to be willing to see my role in the dysfunctional marriage and be willing to change. I was so miserable and felt I had so much to lose by the marriage ending that I was highly motivated to understand the current situation, my role in it, and what needed to change.
What I did not understand was that no matter my failings, no matter how sincere I was about preserving my marriage, being involved with a sociopath meant self-reflection and self-improvement had to wait (unless they were needed to gain the personal strength to leave the relationship). Understanding that you are married to a sociopath and getting out of that marriage safely should be steps one and two. But I did not know about sociopaths then, and I certainly did not know I was married to one.
Few people, even trained therapists, think to question whether a difficult relationship and a person's eroding sense of self may be a result of being intimately involved with a sociopath. But this is the first question we should ask. Think about it. Sociopaths must be disproportionately involved in difficult relationships and divorces. In fact, a characteristic of many, but not all, sociopaths is an inability to sustain long-term relationships. Hence, if sociopaths comprise up to four percent of the population, they probably represent a much higher proportion of failed marriages and doomed relationships. Let's guess conservatively that it is ten percent. If you are in a troubled marriage in which you feel you are turning to dust and there is a one out of ten chance that the root cause is that you are married to sociopath, shouldn't you rule this out before venturing further into marital therapy and self-reflection? Unfortunately, most people do not even consider such an option.
In emotional pain and with diminished self-confidence, I entered therapy motivated to improve our marriage. What about Paul? He entered therapy unburdened by emotion, empathy, or conscience. He was motivated to do what all sociopaths are motivated to do—prevail and win. His agenda, therefore, was to use the therapeutic setting to increase his control over me so that I would stay on as the needed stagehand for his show. He could have employed any number of strategies. He chose one that was maximally dismissive of me and probably highly entertaining to him—gaslighting.
Start from the beginning:
Go to previous chapter:
Go to the next chapter:
Notes
Identifying names, places, events, characteristics, etc. that I discuss here and in my book have been altered to protect the identity of everyone involved.