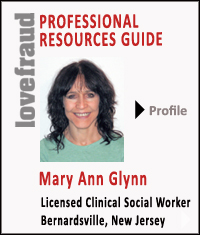 The Psychopath Inside: A Neuroscientist's Personal Journey into the Dark Side of the Brain — by James Fallon
Review by Mary Ann Glynn
I first came across James Fallon's research on a show about psychopathy and the brain on the Science Channel. I was fascinated by what he found out by mistake about his own brain, which has added an interesting and significant spin to the discussion of nature and nurture in psychopathy.
For thirty-five years James Fallon has been a neuroscientist educator and researcher, and has engineered major breakthroughs in stem cell research. His research lab led to the creation of three biotech companies, one of which won a national award from peers. His main areas of study were in Parkinson's Disease, chronic stroke, later branching into PTSD of veterans, Alzheimer's, schizophrenia, addictions, male-female brain differences, emotional memory, ADHD, and consciousness, all of which were a substantially rich prerequisite to what he veered into more recently.
James Fallon grew up in a warm connected extended family, and was an exceptional student and athlete throughout his educative years. At the age of 14 he was named "Catholic Boy of the Year", partly as a result of having developed Obsessive-Compulsive Disorder at the time which took the form of extreme religious devotion. In adolescence he went through a period of depression for no apparent reason, but claims this did not ever happen again. He has been married for forty-four years and has three children, all he maintains satisfying relationships with, as well a large circle of friends and colleagues.
Discovery of a psychopathic brain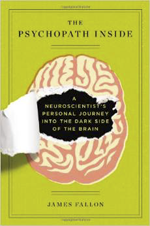 A few years back Fallon was asked by a psychiatrist expert testimony in murder trials, both psychopathic and impulsive, to see if he could find any brain patterns in about fifty brain scans. He began to extensively study the psychopathic brain. At that time he was also studying his family's brains as part of an Alzheimer's study, including his own. When examining those scans, he thought one of the psychopath scans had gotten mixed up with them, only to discover it was his own brain! On closer examination he found not only did he have all the aspects of a psychopath's brain, but he found he had all the genes associated with psychopathy (both of which are extensive).
When he told his mother about these surprising findings, she confessed they had never told him the truth about his family's nefarious histories. It turns out on his father's side there is a long line of criminals and murderers of whom Lizzie Borden is one. On his mother's side there were Sicilians engaged in criminal activities for generations.
The brain of a natural born killer
Now fascinated to find out why he, with the brain of a natural born killer, wasn't murdering, or even stealing, womanizing, abusing anyone, or otherwise participating in antisocial behaviors, Fallon began a quest for answers. He researched all the case studies he could find in his work and in the literature. He found that for all psychopaths, including dictators who had psychiatric reports from their youth, all had been abused and often had lost one or more biological parents. There may be those without abuse, he said, but he couldn't find one. More often, he believes, there is a gene-environment-gene interaction. For example, a biologically at-risk child interacts with a non-nurturing and/or abusive environment, which unlocks the psychopathic genes and impacts the developing brain.
Fallon wonders who he would have become had his childhood not been so charmed and he had not been blessed with the abilities to succeed in the world. He dubbed himself a "prosocial psychopath", and he decided to survey how his friends and family experienced him. Aside from getting some good feedback, he got some that clearly described psychopathic traits — "charming", "manipulative", "intellectual bully", "a need for constant stimulation", "unable to love deeply", "emotionally shallow", "unempathetic" to name a few. But in psychology, something is not deemed a disorder unless it's to the degree that it significantly impacts a person's functioning in some area of their lives. Luckily, this has not been the case for Fallon.
Further research
In truth, the picture in his case is not so cut and dry. He has admittedly been a drinking partier all his life, and though a "fun and benevolent drunk", it could be responsible for a good deal of stimulation-seeking or neglectful behaviors. Also, he was diagnosed by one psychiatrist as bipolar – manic, which could explain impulsive, aggressive, stimulation seeking behaviors, difficulties with relationships (all of which overlap with psychopathy), as well as the early depression and OCD, subsequent years of panic attacks, and the fact that he has never slept much. Aside from the buffer of a loving family, the compounding factors of an apparent somewhat sensitive nervous system lending itself to addiction, in a weird way, may also have saved him from being completely cold and callous.
Book details personal journey
If you are interested in the most cutting edge research on the brain and genetics associated with psychopathy, Fallon's book is chock full of it in great detail yet in a manner that lay people can understand as much as is possible. Just as interesting, his personal journey is a thought-provoking read in its bearing on the study of psychopathy. Because of his unique perspective of expert scientific knowledge combined with personal experience and a deeply speculative intellect, Fallon draws some riveting hypotheses on whether he can be considered a psychopath, whether psychopaths can change (he analyzes his personal attempts), and why psychopaths may exist at all.
The Psychopath Inside is available on Amazon.com
Related story
A Neuroscientist Uncovers A Dark Secret