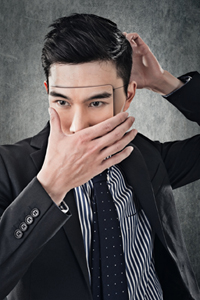 UPDATED FOR 2021. Lovefraud received the following email from a reader whom we'll call Alfred. The subject line of his email was, "A moral obligation?"
I'm two years removed from the brutal break-up with my ex-spath and all in all, can say I'm doing quite well and have recovered nicely! It was a LONG journey to get to the place I'm at and it's a relief to be there after two years of continual obsessing and ruminating – I've finally reached the point where I just don't care anymore. The shock of what I had in my life for 14 years has finally dissipated – the last emotion to go.

That being said, I know I still have some work to do on myself as evidenced by my need to periodically check-up on my ex via social media. I like to think I do so to stay ahead of the game but there's certainly a thirst to quench my curiosity over what has become of the monster. Not only is he a textbook spath, but he's also a crystal meth addict! I did a little online research and am now pretty certain that he is dating the person he was triangulating me with towards the end of our relationship. My dilemma is, do I warn that person? There are good reasons in the yes and no columns and I just don't know what to do.

In the 'No' column:

This person/new source was possibly knowingly having an affair with my ex with the knowledge that he was in a "monogamous" relationship so he'll eventually get what he deserves when he becomes the discarded.
My ex very likely lives a miserable life with few friends/subjects and is in a constant battle vs. his drug addiction – I have some fear about him harming himself as a result of any action I might take and I do not want to be or feel responsible for that.
No Contact has been in place for a year and a half and my stirring the pot, even if I did it anonymously, could be detrimental to me and my continued recovery, as it's likely my ex would know who was responsible.

In the 'Yes' column:

Even though I won the end game (he got $0 from me after I discovered and exposed his drug addiction to his family and close "friends") and threatened his career (he works with children!), delivering another blow to him would feel really good in many ways.
The new "source" is quite possibly the naive guy I once was who has been completely love-bombed and deceived as I was and as a good person, I have a moral obligation to try to warn him.

I guess what I'm really trying to figure out is, would I be doing this for myself or the new target? Any advice for me?
Think of yourself first
Alfred,
Congratulations on getting away from the sociopath, on maintaining No Contact, and on your tremendous progress towards recovery.
Many, many people write to Lovefraud with exactly the same question: Do I have a moral obligation to warn the next victim? Your analysis is thoughtful, and shows awareness of your conflicting motivations.
Here's what I think: Your first moral obligation is to yourself.
Read more: Is your partner a sociopath?
Your primary concern is your own safety, recovery and peace of mind. If reaching out to the next victim puts you in jeopardy in any way, don't do it. If the sociopath will retaliate, if you're worried about being drawn back into the vortex, if just thinking about what to do triggers you, you probably should not get involved.
On the other hand —
But there are other considerations. One of the prime reasons why sociopaths are able to continue their marauding ways is because no one talks about what they do. As a society, we don't talk about the fact that human predators live among us. On a personal level, keeping quiet about exploiters we know allows them to get away with their cruel, and sometimes criminal, behavior.
So I think that if you can warn someone safely, you should do it.
If you warn, one of three things will happen:
The target will believe you and take your warning seriously.
The target will not believe you, probably because he is being love bombed, and the sociopath has already convinced him that you are the crazy, psycho ex.
The target will not believe you right away, but will remember your warning when the sociopath's mask slips and he starts to see the exploitative behavior.
If you are going to warn, you need to be fine with whatever happens. If the target does not believe you, you need to be able to shrug and say to yourself, "I tried."
Another possible option is to not do anything immediately, but wait to see if an opportunity arises.
Sooner or later, the new target will experience the sociopath's manipulation, deceit and possibly abuse. At that point, he may reach out to you, and be much more receptive to your message. It may be a good time to talk about your experience, as long as you can do it safely.
Moral obligation
So do we have a moral obligation to warn the next victim?
As I said, I believe our highest moral obligation is taking care of ourselves. We are all on our own journey, and our top priority is our own learning, growth and healing.
Learn more: What did they want? Psychopaths, antisocials and other exploiters in romantic relationships
But being able to warn another person may be a step in our own growth. We may feel that the best thing for our own journey is to take a stand.
In the end, to warn or not to warn a question we must all answer for ourselves.
Lovefraud originally published this article on Nov. 17, 2014.