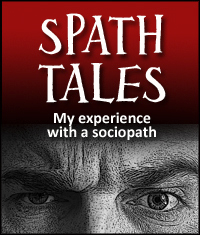 Editor's note: Lovefraud received the following story from a reader who posts as "Lobelle55."
My mother was a sociopath. She was the sweetest, most beautiful and doting mother on earth. Very talented.
But she had a dark side. She was bent on turning us kids (5) all against our father – especially me. I was her favorite hand picked target.
As a child she indulged me a lot and I was very dependent upon her. She manipulated aggressively, always telling graphic stories to me about my dad's unfaithfulness and anger (she could really push his buttons), even at a very young age around 6 – 8 years old.
Of course I did not have any idea that she was also telling awful lies about me to my dad! I had been carefully groomed and was completely unaware of the ways of a pathological. When in my late 20's – 30's, I figured out she was playing games, and tried to confront her a few times with no results.
I did not understand exactly what she was until after much therapy in my 50s, long after she passed away. Everybody who knew her thought she was so perfect and wonderful. She was very good at projecting that image and fooled everyone.
She was driven. I remember even on her deathbed, her last dying words and gestures involved pitting my father and I against each other, behind our backs while we cared for her.
Although she did a very good job of hiding it, I see now that she had such an empty life.
I couldn't share any of this with my siblings. Nor my father, our relationship was irreparably damaged.
Only recently have I been able to share with a couple of my siblings. But most of them believe the image she projected and not me. In fact, they have pretty much rejected me in general.
I noticed on Lovefraud most of the stories are about romantic relationships. Indeed, I suppose that is where pathologicals cause the most damage, especially where children or divorce are concerned.
But what really messed me up were a few close friendships, and an almost-affair, where I was drawn to similar relationships.
It seems like the world is full of these people, in any workplace or institution —schools, churches, clubs.
In my case these are people who are not they way they represent themselves no one ever had any idea. They were outwardly friendly and responsible people. Not the high risk-takers so often read about. But they had one thing in common they took pleasure in setting me up and stabbing me in the back repeatedly.
I will say, I thank my lucky stars every day for my wonderful husband of 27 years who is not pathological at all.
I am working through strong feelings of guilt, confusion, and a lack of self worth. I mourn that any relationship with my father was taken from me.
I have been dealing with depression and suicidal thoughts for many years. Fortunately I also have a great therapist who has been helping me unravel this problem for about 7 or 8 years. Still, I have a very long road ahead of me.