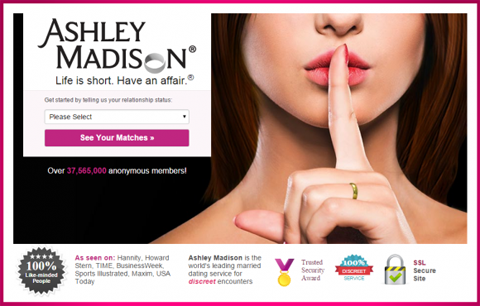 AshleyMadison.com, a dating website for married cheaters, has been hacked.
The website's slogan is, "Life is short. Have an affair." Now, the personal details of 37 million members, including nude photos and sexual fantasies, have been compromised.
This is a moral dilemma for me. Of course, hacking a website is criminal. But as far as I'm concerned, all of those cheaters are getting what they deserve.
The hackers, a person or group calling itself the "Impact Team," has demanded that the website owner, a company called Avid Life Media, take down Ashley Madison (AM), and another hookup site that it owns called Established Men (EM) and Cougar Life.
Here's the statement from the Impact Team:
AM AND EM MUST SHUT DOWN
IMMEDIATELY PERMANENTLY

We are the Impact Team.

We have taken over all systems in your entire office and production domains, all customer information databases, source code repositories, financial records, emails.

Shutting down AM and EM will cost you, but non-compliance will cost you more:

We will release all customer records, profiles with the customers' secret sexual fantasies, nude pictures, and conversations and matching credit card transactions, real names and addresses, and employee documents and emails. Avid Life Media will be liable for fraud and extreme harm to millions of users.

Avid Life Media runs Ashley Madison, the internet's #1 cheating site, for people who are married or in a relationship to have an affair. ALM also runs Established Men, a prostitution/human trafficking website for rich men to pay for sex, as well as cougar life, a dating website for cougars, man crunch, a site for gay dating, swappernet for swingers, and the big and the beautiful, for overweight dating.

Trevor, ALM's CTO once said, "Protection of personal information" was his biggest "critical success factors" and "I would hate to see our systems hacked and/or the leak of personal information"

Well Trevor, welcome to your worst f*cking nightmare.
According to media reports, Ashley Madison's customer service is in meltdown as people try to close their accounts, and the company's plans for going public are toast.
I am cheering.
Online cheating site AshleyMadison hacked, on KrebsOnSecurity.com.
Ashley Madison faces "˜doomsday scenario' after hack: Bankers, on CNBC.com.
Ashley Madison customer service in meltdown as site battles hack fallout, on TheGuardian.com