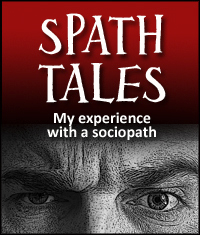 Editor's note: The following story was received from a Lovefraud reader whom we'll call "Emilie."
I was married to one. I left him for another one whom I've dated for over a year.
My marriage ended with a violent incident. He is awaiting a criminal trial and is out of jail on bail.
He is facing two child endangerment charges and was still awarded 50% custody of our two young boys. He fired a shot while we were fleeing to safety and the judge denied my restraining order, believing his testimony that he fired the shot to get me to stop and go back to talk to him.
The case was appealed and again I was denied a restraining order.
He is now harassing me by exploiting the legal system to control and manipulate me. He has filed motions against me, filed tax forms causing me to pay more income tax than I should have had to, he called Child Protective Services and alleged that my boys were being abused.
I have been a professional educator for almost 20 years and have graduate credits beyond my Master's degree. I believe he is trying to make me lose my job, go bankrupt, and take my children away from me in an effort to avoid prison time for his crime.
The man I left him for is a veteran police officer who fits the profile of an s-path perfectly. I basically went from the frying into the fire.
Currently my ex continues to make my life a living hell on a daily basis.
He interrogates my sons each and every time they talk and he tells them they don't have to listen to me. He uses them to try to manipulate me and my time.
He has lied to all of our former friends and wormed his way back into their lives. He has manipulated my sons' teachers and other school professionals into believing that he is the better, more involved parent.
He shows up in my supermarket even though he has to drive past two major supermarkets between his place of employment and his home. He wanted to rent an apartment in the same development that I live in and he is apparently dating a woman who has a child that attends the school in which I teach.
I've caught him driving around my development. I believe that if he is convicted of his crimes, that he will feel he has nothing left to live for and willcome after me and or my boys and put himself in a suicide by cop situation.
He is a coward and a bully who cannot take blame for his own actions. He is 100% committed to destroying my life.
UPDATE:
Thankfully, with the help, love, and support of friends, I am in a better situation now. Unfortunately my ex is still the same.
I actually spoke to his current girlfriend and warned her. She told me he has begun looking through her phone, accusing her of things she hasn't done, and most frighteningly, showed up at a bar when she was out with her sister.
My older son is having major problems, and I still suffer from PTSD.
It's been a long and difficult road, but Jesus has seen me through. I am confident in Christ, and that is very comforting.