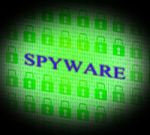 A matrimonial judge in Brooklyn, New York, has ordered the husband in a divorce case to allow his computers and cell phones to be inspected for evidence that he intercepted his wife's confidential communications with her attorney.
In the case of Crocker C. v. Anne R., Justice Jeffrey Sunshine ordered sheriffs to seize Crocker's electronics without notice.
According to the New York Law Journal, a technician retained by the wife's attorneys had discovered three spyware programs in her phone:
Pangu, which is used to circumvent the iPhone's anti-spyware protection (called "jailbreaking")
mSpy, which enabled access to emails, text messages and call history, along with GPS tracking
IPVANISH, which encrypted the phone's data and sent it to an Internet account, where the husband could access it.
The wife's attorney, Raoul Felder, alleges that Crocker installed the spyware three weeks before filing for divorce. Felder said that it took him 14 minutes to install the spyware package on her phone, and the download commenced at 1:32 am, when his client was likely asleep, according to the New York Law Review.
When asked during depositions if he had planted spyware on his wife's phone, Crocker invoked his Fifth Amendment right to remain silent 58 times.
Read the complete decision: Crocker C. v Anne R.