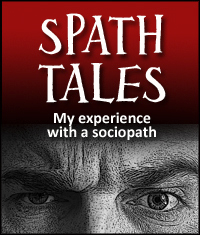 Editor's note: Lovefraud received the following story from a reader who realizes that the psychopathy gene runs deep in her family of origin. We'll call her Laura22.
I am the product of an unwanted teenage pregnancy. My parents were high school sweethearts. My father was captain of the football team and my mother was head cheerleader. They got married after finding out about the pregnancy, she was 16 and he was 19.
The first 2 years of my life the 3 of us lived next to my father's parents in a trailer. When I was 3 my father got a job as an electrician with a large construction company and we moved to far away. My mother found us a place to live. We rented part of an elder man's very large house; he lived in the upstairs. It was beautiful and had a pond with ducks behind it.
This was the first time my parents did not have either set of their own parents living anywhere near and no one to watch their behaviors. The first time in their lives they were totally on their own with no judging watchful eyes…my mother was 19 and my father was 22. I have but one or two memories of my father before the age of 5 really…he worked all the time.
Psychopathy gene runs deep
I do have very vivid accurate memories of my mother since birth really. My mother is a malignant narcissist. She is very close to being a psychopath but she needs a constant supply. My father is a born psychopath…the psychopathy gene runs deep in the males on my father's side. The psychopathy gene is also hereditary on my mother's side. Both of my parents are alcoholics as well.
Read more: Senior sociopaths as parents — manipulating their kids while young and as adults
After being in that house a few days my mother introduced me to the old man who owned the house…he was sitting mid way on the staircase. I was only 3 but I remember hiding behind me mother's leg and getting an unsafe feeling in his presence.
My mother's father passed while we were living there. My father's mother called to tell her. This memory is so vivid in mind. The phone ringing …me clinging to my mother's leg so close I could hear my grandmother tell my mother "Your father died." … in the most unempathetic voice.
My mother screamed and it was the scariest scream I had ever heard. It wasn't a feeling of sadness scream …. I knew by that age what a sadness scream sounded like because I was beaten for those emotions. It was a fake scary loud mean scream….it was her rage scream. We flew back for the funeral and then immediately flew back home.
Dirty old man
A few weeks later the old man would be sitting on the stairs every time we came by going to the kitchen we shared. Each time he was sitting a step closer and my mother would say "Laura say hello to the nice man…HE just wants to play with you." I would cling so tight like a monkey to her leg she would be walking with all of me.
One day while shopping she picked out a slinky for me to play with. I was not interested at all. When we got home the old man was sitting on the staircase and my mother took the slinky out, went to where he was sitting …dragged me with her and showed me how the slinky would walk the stairs. I never took my eyes off that man…I wanted nothing to do with any of it. She would demand I stay and play slinky with that dirty old man and I never would listen to her. Never. He was exactly what I said … a dirty old man.
This would be my first recollection of her putting me in dangerous situations to be sexually molested and or hurt in any way with her being able to play the victim. In writing this I just realized the victim part. Wow!
Went No Contact
Things like this scenario would repeat themselves throughout my entire life. I am 49 now and went no Contact 2.5 years ago. My father is a psychopath, my mother a malignant narcissist, I was an only child for 10.5 years. My brother was born then and at 14 my sister was born.
I raised these two siblings for my parents and they did nothing but groom them to hate me, abuse me and use me, just like they have my entire life. My brother is the real golden child and is a psychopath like my father. My sister is my mother's golden child and she is her mini me and now her supply since I left this family full of personality disordered people.
Both sets of my grandparents are the same personality disorder as my parents as are both sets of great grandparents. All aunts and uncles…all cousins and their spouses and children are personality disordered. I am the only empath that has had the balls to stand up and publicly call these abusers out for what they have done to me and the crimes they have bestowed upon me.
I was suicidal and physically ill when God woke me in almost three years ago. He lifted the veil of consciousness so I could see all the wolves in sheep's clothing that posed as my loving healthy family. I am their SCAPEGOAT.
Family stole from me
My family stole my house, my life savings of 150 thousand cash, my vehicles, my boat, my business and its entire paid for inventory. I owned a women's and children's boutique with my mother for 25 years. She and I bought commercial real estate with the money we earned through our boutique.
The day I decided I wanted to venture out on my own she, my father, and my sister set their plan in motion to take everything I own. She was successful in doing this to her brother with the inheritance that was left 50/50 to them. My mother forged his name and removed his name off bank accounts and property deeds. She has been successful thus far doing this to me. I have 3 commercial properties left with our names on them and I worry she is chewing at the bit to casually remove my name from these 3 as well.
After my mother, father and sister stole everything from me …they dumped me in one of her rental homes (which I paid her cash for and she won't give me the title) and continue to harass me, stalk me, threatening my fur babies, which are my family and the only unconditional love I have ever known.
I am healing myself
I have no money to go to therapy so with God and my fur babies I have been fighting this war and healing myself. I have found my gift that I have been looking for since I could walk. I am now honing it and I am proud of my work. I know I will only go higher and get better with every obstacle I overcome. With God everything is possible. I have always felt myself to be an old soul.
In truly realizing this …. I have found a name for my gift … I am a medium. I love the past. I love the people. I love the wisdom. I love the history. I truly live in my life with the past and the present. I would love to share my life story on any platform or media.
The story I shared is just a drop of what I have survived. I have many, many true stories of angels in human form saving me from the most dangerous life ending situations. I have not written of any of those thus far.
First time sharing my story
This story I wrote to you today is the first time I have shared it. I never know what I am going to write with this hand of mine as God writes for me. Thanks for letting me share a bit of my life with you.
I know I would not be here if God did not have a purpose for me. This is my purpose. To educate. To tell my true life story. So others might awaken and know it's not them …. it's your family where the psychopathy gene runs deep.
Learn more: Overcoming shame — how to feel worthy of love and respect
Knowledge is power. I plan on advocating for more laws to protect adult children of NPD parents. I plan on suing my parents for the lifetime of abuse they have bestowed upon me. My father is a violent psychopath. The belt beatings escalated at 14 to closed fists to my face breaking my jaw several times. I will never stop exposing this family's toxic legacy until the day I die.
Then my soul will come back to save another from living this life of hell. Namaste…in love and light I rise. ❤