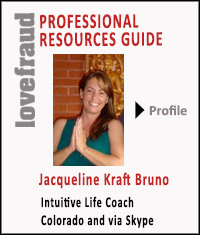 Lovefraud is pleased to introduce the newest member of the Lovefraud Professional Resources Guide, Jacqueline Kraft Bruno. Jacqueline is an Intuitive Life Coach, Reiki Master and survivor of narcissistic abuse. 
What experience have you had dealing with sociopaths or other disordered personalities—personally, professionally, or both?
Professionally, my experience includes working in substance abuse treatment. As a counselor, I worked with addicts and their families of all ages. I have worked in out patient and in-patient programs and as an Interventionist in private practice.
Many of my co-workers were aware of the disordered people in their families prior to beginning their careers. I was a late bloomer. I realized these disorders were prevalent in my own family as I worked with families and addiction. I was the "scapegoat" in my family, and I had come to believe that I deserved the label in my youth, but as a result of therapy and sobriety I was now a changed woman. My responses to people, who were disordered that I came across in my field, were automatic. I would fall into a pattern of behavior that was not aligned with my beliefs. I was displaying co-dependant behaviors and attitudes, towards disordered people especially.
Through the process of healing myself, working with a therapist and incorporating meditation, yoga and mindfulness into my daily life and thinking, I came to realize the source of my co-dependence was my own family of origin. I realized I was conditioned to respond to narcissists and sociopaths differently, as a means to get my emotional and survival needs met. I eagerly engaged in healing these patterns for myself. I could not stand feeling controlled or unaware of my own motives.
As a result, I stopped participating in allowing others to abuse me. I started to stick up for myself and speak my truth without apologizing for my feelings or attitudes. I started to accept myself, for better or worse, and stopped engaging in exhausting people-pleasing. As a result my entire life changed. My anxiety, once overwhelming, became almost non-existent. I no longer needed medication for ADHD. I experienced a wholeness in myself I had never experienced before, and I became passionate about helping other women who were emerging as I had and looking for a path to empowerment similar to mine. I was tired of feeling like a victim. I no longer do. I believe no one should feel like a victim just because they lack proper tools and perspective to be the hero in their own life.
How do you go about helping clients who have tangled with a sociopath?
I find the first thing most women need, prior to engaging in a therapeutic program, is validation. I don't feel this always means I need to share my personal experience. I have found re-directing clients who have been conditioned to believe their thoughts and feelings are irrelevant is the best place to start. It's not enough that I hear the client and reflect back that they matter. I'm supposed to do that; I'm a coach, right? It's more important to me to start with there is no right or wrong to a woman's thoughts or feelings. They just are. Whether I or anyone else agrees they are "right or wrong" is based on that person's experience, not in facts. The fact is that all feelings matter. From here, we can start to look at what changes the client wants to make in how they feel, think and behave. Then we can work together to identify goals the client wants for their time with me.
What, in your experience, is the biggest issue or problem that people who have been betrayed by a sociopath need to overcome?
Continued focus on the disordered person, rather than focusing inwardly, will keep the client in "victim consciousness" and away from freedom, indefinitely. This is a delicate transition, however, and I respect that. I think it's important for the client to emotionally vomit everything they have spinning in their brains about the twilight zone experience they found themselves in. It's a horrible experience. Then it's time to move towards letting go and allowing healing and change to happen.
What's one tip you can suggest for helping Lovefraud readers recover from the betrayal of a sociopath?
Love yourself. Put yourself, your healing and your well being first and foremost. If you do this, everything else will fall into place.