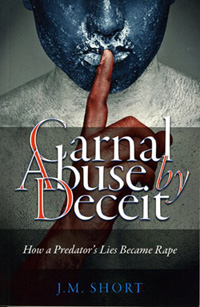 Many, many Lovefraud readers, I am sure, will be able to relate to Joyce M. Short's new book, Carnal Abuse by Deceit How a Predator's Lies Became Rape. I wish this were not the case, but it is.
Joyce lives in New York City, where she's a real estate broker, professional tennis instructor and a strong advocate for her community. Much of the book is her personal story, and this is what will feel so familiar to many readers.
Joyce writes about her outwardly successful, well-off family of origin and what was really going on behind closed doors. Here's a hint: Her father wasn't necessarily the upstanding citizen that he presented himself to be.
She writes about young, handsome and successful man who swept her off her feet. Although he was handsome, he was not as young and successful as he pretended to be. And he certainly was not a loving partner. In fact, the cruelty with which this man abandoned Joyce and their son would be shocking to most people, although not to Lovefraud readers.
Finally, Joyce writes about the heartbreak of raising a son who inherited much of his father's disposition. This was years before there was awareness of personality disorders among mental health professionals (not that there's much awareness now). Joyce struggled alone, for years hoping that her ex would be involved with their son's life. When the man finally did become involved, things went from horrible to devastating.
Why it happens, what should be done
Along with her personal story, Joyce describes the neurologic and chemical components of love and how our own brain chemistry makes it difficult for us to escape partners that are harmful to us.
Finally, Joyce advocates for changes in the law. She believes that people who have consented to sex with people who did not represent themselves truthfully are victims of crimes. Some U.S. states do have laws about "rape by fraud," but, according to Joyce, they are inadequate and seldom enforced. She would like to see people who defraud others into consensual sex prosecuted. Joyce considers them to be sexual predators.
Carnal Abuse by Deceit offers Lovefraud readers validation. And it offers our larger society an approach for criminalizing rape by fraud.
Carnal Abuse by Deceit is available on Amazon.com.