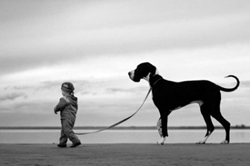 by Quinn Pierce
When I first met my ex-husband, I was moved by the amount of compassion and sympathy he showed for the traumatic experiences of my past. To me, it was an endearing quality for someone to be so caring and supportive. He kept telling me how honored he was that I trusted him enough to tell him things I hadn't talked to many people about before.
Ulterior Motives
I look back with cringe-inducing clarity, and I recognize several ulterior motives for his false compassion. For one, he was assessing me as a partner. He learned that, at the time, I was a very secretive person. I had a select few people I confided in, and I was not one to talk to others about my own painful experiences.
This is a very appealing trait, I can imagine, to a sociopath. My ex-husband knew I would not be quick to complain to others about anything he would do in the future, or recognize his actions for the abuse they would be.
Secondly, he was testing my dedication and trust toward him. How much would I divulge, how comfortable could he make me feel?
Lastly, and this proved to be painfully true of all confidences in our relationship, he was stockpiling ammunition for use at a later date. He would often condemn me in verbal tirades for those same things he would show so much sympathy for earlier.
The Real Victim
Eventually, he was able to twist my perception of certain events so that he would be portrayed as the victim, while I was always responsible for making him feel bad and playing the victim.
This happened so frequently and with such conviction on his part, that after my separation, I was actually surprised when someone I was talking to referred to me as a victim. I didn't even know how to respond. I almost denied what sounded to me like an accusation, but I didn't say a word while I let the information sink in.
It took several months of counseling and reprocessing memories for me to understand that I was the actual victim in the relationship. It would be even longer before I could equate my experiences with what I considered 'real victims'. I had yet to learn exactly what psychological abuse was or how far reaching the effects were. It was more than just living with someone who could manipulate my actions and rewrite memories, it was like being the test subject to a mad scientist who was rewiring my brain.
Separating Fact From Fiction
The first thing I had to do in order to begin healing was separate the realities of my marriage with the illusion of the life my ex-husband worked so hard to maintain. That meant believing and accepting the fact that I was a victim. This was difficult for me to digest. I have always been sympathetic to other people who have experienced abuse, but for me to accept sympathy from others was a very uncomfortable feeling. At first, I thought it would make me appear to be a weak character. Someone who was seeking attention or causing drama. All the things I avoided in my life, and all the things my ex-husband thrived on.
However, my thought process was innately flawed, mostly because of the picture my ex-husband painted of me for so many years. There were so many characteristics of him that I didn't like and wanted to free myself from, one of which was the recurring role of victim. I was not rushing to take on that role, myself.
Once the understanding dawned, it was like I had opened my eyes after a long sleep. I finally saw the truth: He was never the victim, I was.
That realization changed everything. It empowered me to take back control of my life by validating my experiences, feelings, and struggles. It connected me with other survivors. And that is a key difference between the sociopathic victim role play and real victims, we recognize that the victimization is over, and we have survived. My ex-husband needs to keep himself in the role of victim to suit his needs and perpetuate his manipulation. He has no desire to move past that role, because it isn't real.
From Victim to Survivor
Real victims of these empathy-lacking individuals are warriors, survivors, and eventually, healers. We share our experiences and search for answers hoping to make sense of what we experienced. We grow and change and thrive.
Admitting I was a victim meant reclaiming my life. I am not responsible for my ex-husband's behavior, I am responsible for mine. I cannot change how he lives his life and who he hurts, cheats, or manipulates along the way, but it will no longer be me.
Ironically, those initial traits he found so beneficial to his success as an abuser are the very traits that changed because of his abuse. In my quest for peace and healing, the most rewarding part of my recovery is sharing my story with as many people as I can. No longer embarrassed or shamed into silence, the experience freed my voice and my spirit.
My fifteen years of subtle manipulation and abuse gave me the incentive to figure out who he really was so I would never become a victim of anyone like him again. And, in the process, I learned that secrets are the abusers tools of control and manipulation.
Maybe he should have payed more attention to my 'silly little interests' during our marriage. He was quick to belittle and minimize anything I enjoyed or anything others saw as a talent. Unfortunately for him, topping the list is one I have turned into an extremely rewarding career choice: Writer.