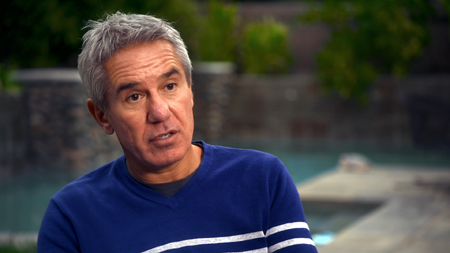 Divorce Corp, a documentary playing in selected theaters through Jan. 16, 2014, takes direct aim at unscrupulous judges, lawyers and family court professionals, and the incestuous system that enables them to feed each other business and get rich.
Some women's organizations consider the film to be dangerously one-sided. But I think it at least begins a discussion about what is really going on in family courts.
Here's how the Divorce Corp documentary producers describe their movie:
More money flows through the family courts, and into the hands of courthouse insiders, than in all other court systems in America combined — over $50 billion a year and growing.

Through extensive research and interviews with the nation's top divorce lawyers, mediators, judges, politicians, litigants and journalists, DIVORCE CORP uncovers how children are torn from their homes, unlicensed custody evaluators extort money, and abusive judges play god with people's lives while enriching their friends.

This explosive documentary reveals the family courts as unregulated, extra-constitutional fiefdoms. Rather than assist victims of domestic crimes, these courts often precipitate them. And rather than help parents and children move on, as they are mandated to do, these courts — and their associates — drag cases out for years, sometimes decades, ultimately resulting in a rash of social ills, including home foreclosure, bankruptcy, suicide and violence.

Solutions to the crisis are sought out in countries where divorce is handled in a more holistic manner.
The Divorce Corp publicity department contacted me last week, shortly before the film's premiere on Friday, and invited me to write about it. I accepted the invitation.
In fact, I wrote about the movie's more sensational stories for the Daily Mail.
Would you pay this man $7,500 to decide whether you are a fit parent? New film exposes the dark underbelly of the $50bn a year divorce industry in the US
The most overwhelming message of this movie is that America's family courts are broken. The system is set up to encourage conflict especially battles over money.
Generating paperwork to make money
"Attorneys get paid by the hour," says the narrator, Dr. Drew Pinsky, host of Dr. Drew on HLN. " The more accusations they make towards the other side, the more things they ask you to send them, the more papers they file with the courthouse, the more they earn and the more it costs you."
And this is before the sociopaths get involved.
I thought the movie did an excellent job of exposing how abusive family courts can be. It targeted the sometimes incestuous relationships among judges, lawyers, psychologists, custody evaluators and other court professionals.
Yes, there are hardworking and dedicated people trying to help litigants in family court. But there are also professional parasites who milk cases for money and keep each other in business.
The documentary told several stories of ordinary people who found their lives torn apart by the courts. But the villains were the courts and court professionals themselves. The movie didn't even begin to describe what happens when ruthless sociopaths use the courts to beat their former partners into the dust.
Director Joe Sorge
I interviewed the director, Joe Sorge. Sorge had his own divorce experience, although he says it wasn't the nightmare that many Lovefraud readers endured. But as Sorge sat in court, waiting for his case to be called, he witnessed other people's cases.
"It seemed to me that there was a cozy relationship between judges and lawyers," Sorge says. "I saw some judges being abusive to the people before them, and not in a friendly way, but in an angry, tyrannical way."
Before he began writing and filmmaking, Sorge earned a B.S. degree from M.I.T., and an M.D degree from Harvard, was a professor of molecular biology at The Scripps Research Institute. He founded a biotechnology company, Stratagene, which he took public and later sold to a large medical supply company.
Sorge spent his own money reported on Huffington Post to be $2 million to make the documentary. The project took three years.
"I hope that our film can at least raise awareness, and expose a system that so many people are injured by, and gets people interested in reforming," Sorge says.
Boycott Divorce Corp
On December 26, 2013, a website called "Boycott Divorce Corp" was launched. No names are associated with it, but the "About Us" page says:
We are protective parents and child advocates fighting for the safety of children in Family Courts.

Our mission is to dispel the misrepresentation and falsehoods disseminated in Divorce Corp. which we believe contribute to children being placed in the custody of abusers and molesters.
When the Boycott Divorce Corp website was launched, no one had seen the movie. The people behind the website formed their opinion based upon the clips posted online in advance of the movie's release.
One of those clips is entitled False Child Abuse Claims, and viewing it, I can understand how the Boycott Divorce Corp folks reached their conclusions. It begins:
"Because there are so many incentives to lie in court during a divorce, people often make up false abuse charges "¦ and because false accusations are so common during a divorce, these cases are typically not turned over to criminal court. Family courts have to distinguish between true abuse victims, and those crying wolf for financial gain."
Immediately after this narration, the documentary features Glenn Sacks, a known advocate of fathers' rights, to the detriment of mothers' rights.
Yes, this clip is scary for protective mothers. Other statements in the movie may also raise concerns, such as promoting 50-50 shared parenting. No one whose child has been abused by the other parent wants that.
Movie is about the money
But other parts of the movie not featured in clips are sympathetic to traumatized mothers. A former mediator is horrified that a court orders a woman who had been subjected to domestic violence to go into mediation with her abuser. A judge talks about taking all allegations of domestic violence seriously and issuing restraining orders, so that someone doesn't end up dead.
I asked Sorge, the director, about the issues raised by Boycott Divorce Corp.
"Child abuse wasn't our focus," he said. "It was about money and what drives the business how do these lawyers and custody evaluators and forensic accountants make money? Why is there so much money? Where is money made in the system?
"Domestic violence and child abuse are tragic," Sorge continued. "But if you take the money out of these custody battles, maybe there will be less resentment on the part of payers, and perhaps less acrimony."
In the end, the discussion of false allegations of child abuse is a two-minute sliver of a 90-minute movie. Yes, the topic could have been handled more to the liking of protective mothers.
Sorge describes himself as "staunchly gender-neutral." After watching the entire movie (twice), to me it doesn't seem to be promoting the interests of either women or men. All are being equally victimized by the courts.
Overall, I believe Divorce Corp. does a good job raising awareness of the major issue: The family courts are broken.
It's a start. I hope the movie begins a national conversation about reform that is desperately needed.
Divorce Corp is playing in selected theaters until January 16, 2014.