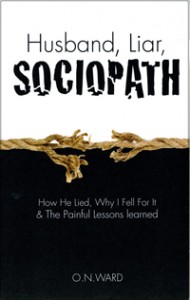 By O.N. Ward
Every week, a chapter of my book, "Husband, Liar, Sociopath: How He Lied, Why I Fell For It & The Painful Lessons Learned" (available via Amazon.com, just click on the title or book cover) will be published here on Lovefraud. To read prior chapters, please see the links at the bottom of the post.
Chapter 4: Love At First Sight Is Possible…Just Be Sure You're Seeing Clearly
Paul was romantic, caring, and attentive. He took me to plays, cooked dinner with me, and shared hikes and long walks. When our relationship evolved to physical intimacy, he was an amorous but gentle lover. I felt so lucky to have found him.
By the time we started dating, Paul already had a contract to live in a graduate dorm during his second year in business school. There, he would have one small bedroom with a desk, share a bathroom with others on his hall, and everyone in his building would share a common room with one TV. In contrast, I had rented a small, comfortable, conveniently located apartment. He moved in.
I did not charge him rent. I convinced myself he could not get out of his rooming contract, and I had planned to pay the full rent myself anyway. He had sold his sports car to raise money for business school, so I gave him full access to my car. Perhaps giving more than I was getting financially was my way of proving what a nice, gracious, empathetic person I was and what a great wife and mother I would be.
Time passed quickly. My days with Paul were filled with shared classes, shared studying, shared dinners, shared trips to the gym, proofing each other's resumes and cover letters, and helping each other prepare for job interviews. I admired Paul for his relaxed approach to business school compared to my more intense, stressed-out approach. I also respected his intelligence, ability to make quick decisions, and his natural, easy leadership style. He balanced me. I loved him, and I was sure he loved me. He told me so often.
We got away on a weekend to visit his family and then on another weekend for Paul to meet my parents and brother. Paul was reserved and tired when he met my family. He attributed his lethargy to exhaustion due to the grueling business school schedule. Later, Paul told me that he sought solitude because he did not enjoy my intellectual brother who kept trying to engage Paul in conversations about topics Paul cared little about.
Paul's mother and father had divorced during Paul's high school years. His alcoholic father had fallen on difficult times and not contributed financially to Paul and his two siblings, forcing Paul's mother, Ruth, to resurrect her career as a paralegal to support the family. Ultimately, she married a successful lawyer. Although her second husband died only a few years after they were married, he had provided for Ruth in his will. While still having to work part-time, she was able to lead a comfortable life. By the time Paul started his MBA, his father was a recovered alcoholic and working again. He was invited to all family functions and was clearly making an effort to reconnect with his children. Although it was a family with their share of missteps, they appeared to have rebounded from personal strife and to enjoy each other's company. I particularly admired Ruth's strength, clear devotion to her children, and her forgiving spirit, which had allowed her to welcome her ex-husband back into family gatherings. She was also kind to me, in a matter-of-fact way.
While everything, or almost everything, seemed right between Paul and me, in retrospect some events seemed odd. Not, "Oh my God, he's a psychopathic killer, run for the hills!" kind of odd, but enough that they left an impression. It is only now, two decades later, that I finally understand them. They were the red flags people tell you about, so easy to see in life's rear view mirror but so difficult to read as you are speeding down the heady "freeway of love—"in a convertible with the top down, going twenty miles per hour over the speed limit and, unbeknownst to you, with a charming sociopath at the wheel. For me to notice them at the time, the flags would have had to be much bigger, and maybe even fluorescent. Having a friend jumping up and down screaming and pointing to them might have helped, too. (No such luck.) But, newly in love and, like most people, blissfully uneducated about the behavior of sociopaths, I did not see then what is so clear to me now.
Odd red-flag moments, such as pressuring me to stay up with him on New Year's Eve even though I was sick, not helping me with my coursework even when he had nothing else meaningful to do, and offering minimal help with the subsequent insurance and repair logistics after he got into an accident with my car, all had one thing in common—they were situations or moments in which Paul's and my goals conflicted, sometimes over the smallest things. They all started with pieces of a puzzle that I was sure would fit together but which, no matter which way I turned them, refused to cooperate. Even though my conscious mind brushed them off as inconsequential, some part of me was alerted to these "moments of weirdness," as I came to call them, and they lodged in my memory, awaiting resolution.
Start from the beginning:
Go to previous chapter:
Go to next chapter:
Notes
Identifying names, places, events, characteristics, etc. that I discuss here and in my book have been altered to protect the identity of everyone involved.