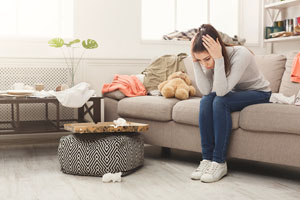 By Joanie Bentz, B.S., M.Ed., BSC/MT
What are executive functioning skills?
As a behavioral therapist, I work with many clients who have impaired executive functioning skills. The term sounds pretty fancy and quite technical, but there is a simple explanation.
The term executive functioning skills refer to a set of management skills that assist children and adults in achieving their goals through:
prioritizing
organizing
remaining focused
regulating emotions
As children grow and become critical thinkers, it is necessary to be able to adapt to change and have the ability to revise strategies to reach personal, social and academic goals.
What happens when executive functioning skills are impaired?
Children and adults who are experiencing this impairment will have difficulty setting schedules and planning ahead.
They may be highly disorganized, and as a result lose things such as schoolwork, keys, and other important items.
They may not be able to focus on analyzing a task and completing it. They may be distracted easily and cannot reach their long-term goals.
Managing time may prove to be a challenge as well, and multitasking may cause a sense of anxiety and confusion.
This type of behavior may result in low motivation or chronic procrastination, out of fear of not being able to achieve a goal or experiencing complete failure.
Having impaired executive functioning skills can prevent you from achieving your dreams and being who you were created to be!
Sociopathic abuse changes the brain
There are several causes for impaired executive functioning, such as:
Drug addiction
Alcoholism
Traumatic brain Injury
Age-related brain disorders
Long-term emotional/physical abuse
Post-traumatic stress disorder
Now and again, we all procrastinate and lose track of time and personal items. We may have endured a loss in some way, and temporarily, the loss affects our outlook and daily coping skills.
Does this mean you have impaired executive functioning skills? Not at all. We all have to endure hardship and stressors in our life, and overcome unexpected misfortune and obstacles.
However, when you have been exposed to long term abuse, especially from childhood, the brain undergoes changes and these impairments can become chronic.
Marina's story
Marina's mother gushed at how intelligent she was a such a young age, with an IQ of 140. Marina's mother and father saw Marina as trophy child #2. Her older brother was very talented, but now they focused on Marina's gifts and were grooming the female Golden Child.
Marina's parents saw that she could sing and dance, and wanted her to perform at a young age for relatives and friends — and put her on display for school personnel. Marina loved to sing and dance, but did not want to perform on demand, as her parents wished.
When Marina did not comply, Marina's mother would become verbally abusive. Her father did not intervene or prevent this outrage toward a young child. At this point Marina became a chronic nail biter. When Marina began to forget to do homework, or daydream in class, her mother would become more enraged.
When Marina's father assisted her with math, she could not concentrate when he was tutoring her. Her mother then beat her until she cried. Again, her father did nothing. Marina knew — in retrospect — that when her father was required to "tutor" her, he was oozing with contempt. Marina was horribly afraid of math after these incidents, and had trouble focusing and understanding math in later elementary years.  She also never disclosed when she was having trouble learning a new concept in school, out of fear of the dreadful consequences.
How sociopathic abuse affected Marina
The trauma that Marina endured  through her parent's mistreatment  affected Marina's ability to focus and complete tasks.
Her executive functioning skills were impaired, which also affected her working memory.
She was also neglecting assignments and her mind was drifting off in class.
Her nail biting was indicative of the intense anxiety she was experiencing. The psychological and physical abuse she endured during the "tutoring" was a double blow to her mind and body, and affected cognition.
Improving impaired executive functioning skills
It is essential that we recognize our patterns of behavior and review our childhood environments. If we are adult survivors of sociopathic abuse, we must be aware that some of our struggles reaching our goals may be due to the changes in our brains due to trauma. We must work on planning, strategizing, regulating and focusing through many types of daily practices and modalities. Here are some examples:
Learn how to establish routines in your life. Don't do things while flying by the seat of your pants. Have a plan for the day.
Use tools like calendars, sticky notes and cell phone alerts to remind of you of appointments and birthdays.
Find time during the day for calm. If you pray, carve a time out every day to engage in spiritual activities.
Exercise increases oxygen to the brain. Cardiovascular conditioning and stretching exercises like Pilates are helpful.
Practice mindfulness. Be present for whatever it is you are doing at the moment. Don't project into the future as you are focusing on a task. Be in the now.
Eat an anti-inflammatory diet with no grains, sugar or dairy, eat clean, and feed your brain with coconut oil which is thought to help the brain heal and function at optimal levels!
When we have the opportunity to develop executive functioning skills, we — as well as our families and society — will experience life-long benefits.  Each and every individual has the right to thrive and be supported by those who share our vision of what life is all about.