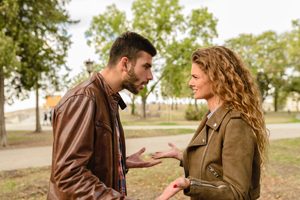 UPDATED FOR 2022: Lovefraud received the following question from a reader. She was unknowingly asking about sociopathic manipulation strategies. Here is what she wrote:
My father was a nut job and so was my husband and now I am dating one — a psychopath. I just had this question —

Do these men act like they do not want you around and push you away and make you feel so sad for them — making you feel like you failed them somehow — never do enough — and then suddenly you find yourself begging them to show you how much better you can do for them?

I am sure the answer is yes — but I guess I just need confirmation.
This reader, in one sentence, listed four different manipulation strategies employed by sociopaths:
Acting like they don't want you and pushing you away
Making you feel sad for them
Making you feel like you failed them
Making you feel like you need to prove yourself to them
All of these are typical sociopathic behaviors. In fact, items 2 and 3 are alternate descriptions for some of the Red Flags of Love Fraud.
Let's take a look at these manipulation strategies individually.
Acting like they don't want you and pushing you away
In the Red Flags of Love Fraud, I list warning signs such as "love-bombing," which is showering the target with attention and affection, and "moving fast to hook up." Sociopaths often pursue you relentlessly, sometimes snagging you through sheer persistence.
Then, suddenly, they act like they are no longer interested in you.
Because of the neurochemistry of how romantic love affects your brain — it's addictive — this has the effect of making you want the sociopath even more. Sociopaths pursue you, then push you away, then pursue you, then push you away. With each manipulative cycle, the bond that you feel for the person gets stronger and stronger.
For more on this, read:
Why you weren't thinking clearly when you fell for the sociopath, on Lovefraud.com.
Making you feel sad for them
This is Red Flag #9 "The pity play." Sociopaths will tell you sob stories about their abusive childhood, crazy ex, overbearing boss, chronic illnesses anything to get you to feel sorry for them.
In her book, The Sociopath Next Door, Dr. Martha Stout wrote:
"The most reliable sign, the most universal behavior of unscrupulous people, is not directed, as one might imagine, at our fearfulness. It is, perversely, an appeal to our sympathy."
The stories sociopaths tell are often highly exaggerated or even complete fabrications, but they tell them so well that you are manipulated into believing them.
Making you feel like you failed them
This is Red Flag #5 "Blames others for everything." Sociopaths will blame anybody but themselves for their problems. When you become romantically involved with a sociopath, sooner or later you will likely become the prime target for blaming.
What's even worse is that you likely never did any of the actions or omissions that you are being accused of. Or, if you are guilty of a misunderstanding or oversight, the sociopath blows it way out of proportion, as if some minor incident was a federal crime.
No matter the sociopath has manipulated you to be on the defensive. This leads to the next tactic:
Making you feel like you need to prove yourself to them
This is the most insidious manipulation tactic that our reader pointed out, because the sociopath uses you against yourself. And surprisingly, the sociopath may manipulate your strengths as well as your weaknesses.
For example, if you are intelligent, or accomplished, or caring, the sociopath may imply, or even tell you outright, that you are not intelligent, accomplished or caring enough. The result you work harder to prove that you are.
The more you work to prove yourself, the more invested you become in the relationship — which strengthens the sociopath's grip on you.
Multiple manipulation strategies
The true significance of the Lovefraud reader's question is something she implied but did not ask directly. By mentioning four different ways in which the sociopath treated her, she captured the essence of what makes dealing with them so confusing:
They employ multiple manipulation strategies simultaneously.
This is why you feel so confused and off-balance. Although you don't realize it, everything has an agenda. Nothing the sociopath says or does is real or authentic. Everything is about pulling you into the web, and keeping you there.
Learn more: Tools for navigating narcissists and other manipulative people
Unfortunately, it works.
Can you add to our knowledge base of warning signs? Looking back, what did you experience that you now realize was a manipulation strategy? Please add your comments below.
Lovefraud originally posted this article on August 24, 2015.