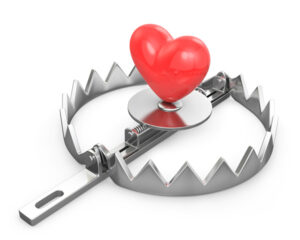 Reader's Digest just published an article on spotting and escaping romance scams. Multiple experts contributed to the article — including me. The author sent me a list of questions; my answers are below. If you're looking for love, I do recommend that you read the entire Reade's Digest article — besides what I submitted, it includes many more helpful tips.
How to spot romance scams: 7 telltale signs to watch out for
What are romance scams?
There are two basic types of romance scams. The first is the online swindle, in which perpetrators find someone online, seduce the target into falling in love with them, and then convince the target to send money. Often the perps and targets never meet in person.
The second type of romance scam takes place in real life. The perpetrator and the target do physically meet, have what the target believes is a relationship, and perhaps even marry and have children. But despite the perpetrator's proclamations of love, it's all fake, and the perp's agenda from the very beginning was to either live off of the target or take as much as possible. Once the target's money and other resources are gone, the relationship is usually over.
Read more: Quiz — Are you a target?
That's what happened to me. My ex-husband claimed to be a successful entrepreneur, proclaimed that I was the woman he'd been waiting for all his life, and told me we'd make dynamic business partners. I spent $227,000 funding his dreams of grandeur. None of them worked. Once the money was gone, he was gone.
Con artists search every social media platform for vulnerable targets. There is no such thing as a safe dating app. I know of people who have been targeted on all of them, from Match.com to eHarmony to The League. I've also heard from people who were targeted on Facebook, Skype and private forums. Anybody can be targeted.
Signs of a romance scammer
If you see any of the following signs in your new relationship, it could be a warning that the person is a scammer.
You never actually meet the person
Your new beau keeps making plans to see you but then doesn't show up. Usually they claim something terrible happened — like their mother died — which might lead them to asking you for money.
You don't even see the person
You ask to Skype or Facetime with your new beau. He or she stalls, then says there's something wrong with their camera. If you finally do have a video call, it's so dark that you can't see what the person looks like at all.
You feel like you met your soul mate
You seem to have the same interests, the same ideas and the same desires. This is because the perp has studied you on social media, figured out what you want in a partner, and then made himself or herself into exactly what you are looking for.
You're in a whirlwind romance
The perp showers you with attention and affection. He or she wants to be in contact with you all the time and quickly makes plans for the future. You think it's love, but actually it's love bombing. The objective is to get you emotionally hooked before you can escape.
Your beau indicates trust in you
Human beings are naturally inclined to reciprocate when they feel trusted. So if your beau says you're the only one who can help them and they know they can count on you, it's to soften you up and get you to trust them. When they feel you're sufficiently primed, they'll ask for money.
Directly or indirectly, your new beau asks for money
Maybe you'll pay for your share of the entertainment from time to time. But if your new beau asks for any money at all, watch out. It doesn't matter if it's for an airplane ticket to see you, or to pay for medical care for their sick mother, or an investment opportunity, asking for money is inappropriate in a romantic relationship.
How to protect yourself from romance scammers
Con artists target lonely people. Understand that the minute you create a profile on a dating app, you are advertising the fact that you are lonely. You are setting yourself up as a target. Then, if you include information in your profile about what you are looking for, you are providing con artists with a road map to follow in seducing you. They will simply tell you what you want to hear, and you'll feel like you found your soul mate.
Beware of communication that is mostly written — text, email or online messages. Experts know that 65% to 90% of the meaning in human communication is nonverbal — facial expressions, tone of voice, body language. If most of your communication is written, that means 65% to 90% of the meaning is missing. So what do you do? You assume that the messages mean what you want them to mean. You fall in love with your own fantasy.
Do not engage in long-distance relationships. Even if you meet someone via a dating app, do not engage with someone who is geographically undesirable — too far away to see in person on a regular basis. I recommend sticking with people who live within a driving distance of 1 hour and 45 minutes — that's manageable. If they are any further away, you won't be able to see them often enough to get to know them.
Besides, the whole point of romance is to be together. It's much easier if they are nearby.
What do you do if you suspect a romance scammer?
Trust your instincts. Your intuition is the best tool you have for keeping yourself safe. If you get a bad feeling about someone, if their story just doesn't seem to add up, or they seem too good to be true — pay attention. More importantly, take action. Don't talk yourself out of what your body is telling you.
Learn more: Sociopathic seduction — how you got hooked and why you stayed
Run as fast as you can.
Again, for more valuable information, check out the Reader's Digest article on how to spot romance scams.