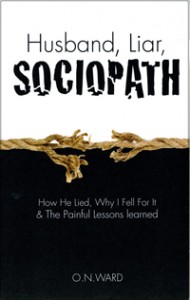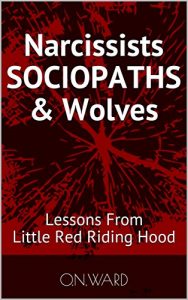 Every week, a chapter of  my book,"Husband, Liar, Sociopath: How He Lied, Why I Fell For It & The Painful Lessons Learned" (available via Amazon.com, just click on the title or book cover) will be published here on Lovefraud. To read prior chapters, use the links at the bottom of the post.
I've also just released a new ebook titled Narcissists, SOCIOPATHS & Wolves: Lessons From Little Red Riding Hood. (Just click here to find it on Amazon.com Narcissists SOCIOPATHS & Wolves.)
Chapter 55:  Paul's Way
Between his father's ongoing behavior, the loss of Ella when Daniel needed her most, his sister leaving to live with Paul and Linda, and my work to get our house staged and sold, Daniel's world had turned upside down. School provided a needed distraction and a semblance of normalcy, but it was not enough. Daniel became short tempered and found it increasingly hard to sleep, concentrate, and study.
Just two weeks after our divorce was official, Daniel came home from school shaking his head and laughing in an "I can't believe what just happened" way.
"Dad married her," Daniel said. "He didn't even invite me, Mom. Jessica was there, but he didn't even invite me to his own stupid wedding! Who does that?"
"I'm so sorry," I said. I had expected that Paul and Linda would marry quickly. However, it never occurred to me that they would do it in a way that would hurt Daniel so profoundly.
"Do you know how he told me?"
I shook my head.
"I had dinner there last night and spent the night," Daniel said. "He told me one stupid minute before he dropped me off at school this morning. 'By the way, Linda and I got married.' It was last week, after school. Jessica was there, but they didn't even tell me. He didn't even invite me!"
"I'm so sorry," I repeated.
"Who does that?" he yelled, tears rolling from his eyes. He stomped to his room, slammed the door, and did not come out for hours.
Money started flowing into Paul's life the moment the judge signed the divorce papers. New cars, vacations, expensive artwork. Paul made sure I knew about it, too. The tradeoff of money for my life would have been a good one if it had worked, but it didn't. Paul started dismantling our divorce settlement before the ink was dry. He even had the audacity to take me back to mediation just a few months after our divorce, accusing me of lying about my few premarital assets to which he said he was now entitled to 100 percent due to my deceit. I had not misrepresented them and, fortunately, I had the documentation to prove it, but Paul thought he could take advantage of some less than perfect wording in our divorce agreement. It was as if I had never been through mediation. My legal bills mounted higher than they had been before the judge signed our divorce decree. Paul used the low settlement to which I had agreed (in exchange for regaining my life and getting away from him) as a starting point to hack away even further at our divorce settlement.
One of Paul's "new" issues was that he had a greater tax liability than he had estimated (of course he did, because he claimed his income for the year approached zero), and he claimed that I owed him for half of the tax owed, because we had been married almost the entire year in question. The fact that the estimated taxes I paid as part of our settlement almost exceeded the income I enjoyed for the year and that, based on his self-reported nonexistent income, he should have received a tax refund after we were divorced, did not stop him from pressing the issue.
With that new piece of tax information in hand, I calculated Paul's income for the last year we were married, when he argued that his company was worthless and in such financial straits that he could not even pay himself. I had to check the calculation twice. A man claiming minimal income and a company devoid of value had made about $1,200,000, apparently in the few days remaining in the year after the judge made our divorce official! It was well beyond what he had ever made while we were married. Where had all the money come from? How long had it been there? Had he been squirreling away hundreds of thousands of dollars all along, preparing in advance for the divorce? I did not care. What is the price of regaining one's soul? Immeasurable. He could have his millions.
Start from the beginning:
Go to previous chapter:
Notes
Identifying names, places, events, characteristics, etc. that I discuss here and in my book have been altered to protect the identity of everyone involved.