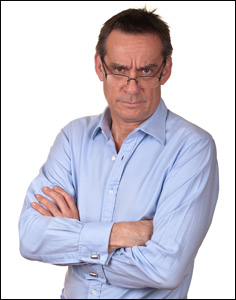 The common wisdom in the mental health field is that sociopaths "burn out" in middle age. If only it were true. According to Lovefraud's research, after age 50, the behavior of sociopaths is just as bad — or worse.
In Lovefraud's online survey, 2,120 romantic partners, family members, friends and associates of suspected sociopaths answered questions about their experiences.
Here were the key questions of the survey:
Did you know the individual both before age 50 and after age 50?
A total of 1,276 people answered the question, and 65% said yes, they did know the individual before and after age 50.
Did the individual "mellow out" or "burn out" after age 50? Did the individual engage in less manipulation, deceit or antisocial behavior?
1.91% — Yes, much less manipulation, deceit or antisocial behavior
6.76% — Somewhat less manipulation, deceit and antisocial behavior
39.30% — No, the same amount of manipulation, deceit and antisocial behavior
52.03% — The manipulation, deceit and antisocial behavior became worse after age 50
Therefore, 91.33% of survey respondents said the putative antisocial individual's behavior was just as bad or worse after age 50.
Society for the Scientific Study of Psychopathy conference
I presented a poster summarizing this research at the biennial conference of the Society for the Scientific Study of Psychopathy, May 2-4 in Las Vegas Nevada. This was a gathering of some 200 psychopathy researchers.
The idea that sociopaths do not improve with age, that they get worse, was news to many university researchers. Just about everyone who stopped by my poster was shocked. Plenty of researchers told me that they had never seen information like what I presented. In fact, quite a few of them walked away from my poster somewhat depressed.
Sociopathic traits after age 50
In one part of the survey, respondents rated the individuals according to the nine traits proposed in the first draft of the DSM-5, which Lovefraud has used in multiple surveys. The traits are:
Callousness
Aggression
Manipulativeness
Hostility
Deceitfulness
Narcissism
Irresponsibility
Recklessness
Impulsivity
Traits were rated on a scale of 0 to 3, from "0 = Very little or not like that" to "3 = Extremely like that." The mean total score for the putative antisocial individuals was 21.19 out of 27. For each of the traits, survey respondents overwhelmingly said the individuals were "extremely like that" — especially for manipulativeness and deceitfulness.
In fact, when asked, "Was the individual manipulative over age 50?," 98% of survey respondents said yes.
Criminal behavior by sociopaths
Research with criminals show that they tend to be arrested and convicted less frequently once they hit middle age — this is why researchers believe that sociopaths burn out.
I asked if individuals were charged with criminal behavior. Only 14% of respondents said the individuals were charged between ages 51-60, and only 4% said they were charged between 61-70.
But I also asked if the suspected sociopaths got away with criminal activity. According to the respondents, 31% got away with crime between ages 51-60, and 12% got away with crime between ages 61-70.
Yes, there may be fewer crimes charged, but that doesn't mean the sociopaths have turned into angels.
Harm suffered by survey respondents
Asked if they lost money because of the sociopath who was over the age of 50, 62% of survey respondents said yes. The amounts ranged from under $5,000 to more than $500,000.
But that's only the beginning of the suffering. Survey respondents reported losing their homes, their businesses and their jobs. They incurred debt, declared bankruptcy, and had lawsuits and criminal charges filed against them.
The biggest categories of harm were related to health problems. Of the survey respondents, 74% said the stress of the involvement made them ill, 88% reported that they became anxious or depressed, and 66% said they suffered PTSD. Ninety percent of respondents said they suffered emotional abuse, and 85% said they suffered psychological abuse.
Here's what you need to know: If you are waiting for a sociopath to grow up and calm down, it isn't going to happen. Get out of the involvement as soon as you can. For information on how to do this, check out the Lovefraud webinar, Escaping the sociopath and rebuilding your life.
For more details, download the Senior Sociopath poster.