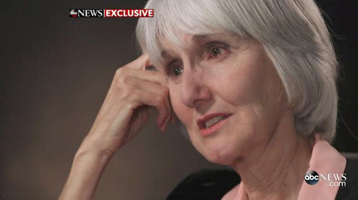 On April 20, 1999, two students from Columbine High School in Jefferson County, Colorado, went to school intending to kill as many people as possible.
In a 49-minute massacre, Eric Harris and Dylan Klebold killed 12 students and one teacher, shooting many of them at point-blank range. They injured 21 additional people. Three more victims were injured trying to escape the bloodbath.
Columbine High School massacre, on Wikipedia.org.
Worried parents heard about the shooting as it was underway, and feared for the safety of their children. One of them was Sue Klebold, mother of Dylan Klebold. But Sue's worry turned to horror when she realized that her son was one of the murderers.
Sue Klebold has never spoken publicly about the tragedy until now. She has just released a book about her experience, A Mother's Reckoning. She's donating the money to charity.
Sue Kelbold was interviewed last week on ABC 20/20.
"I think we like to believe that our love and our understanding is protective, and if anything was wrong with my kids, I would know," she said. "But I didn't know."
Five years after the attack, the FBI's lead investigator and several psychiatrists published their conclusions. They said Harris was a clinical psychopath and Klebold was depressive, influenced by Harris.
Watch the video online: Silence broken: A mother's reckoning, on ABCNews.go.com.
Sue Klebold's memoir about her teenage son, Dylan, one of the Columbine killers, on HoustonChronicle.com.
The depressive and the psychopath, on Slate.com.