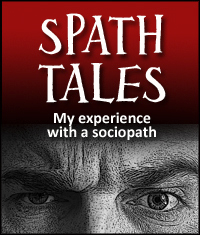 Editor's note: This story was written by a Lovefraud reader who posts as "stars4healing."
I'm not a good storyteller. I just want to try my best to put some facts out there in case it helps someone. This is just a couple easy to explain things he put me (and others) through.
He is an engineer, very smart man. Comes off as perverted, "creepy" (he hates that word), and desperate. He likes to seem like a helper. This way he can look like a victim when his "helpers" report his abuse. He preys on young girls with vulnerabilities, mainly drug addicts. Thanks to me, he's mastered the art of exploiting and humiliating an addict.
I wasn't addicted when I met him. I was a teenager; he was 10 years older. He gave me about a month's worth of opiates, which I'd never tried. From then on it was hell on Earth. I was raped vaginally and anally by a man I thought I would spend the rest of my life with. He tried to sabotage my recovery all along, playing to the rest of society like he was rescuing me.
While living with him, I saw him take advantage of the underage boy next door with daddy issues. He would get him high, buy Adderall off him, and get him and his friends alcohol to drink and party at his house. He would ask him to bring over girls (minor girls) to prey on. He offers girls money for sex, such as $800 to let him give her oral sex.
He says he fixes computers, but downloads malware to watch, listen, and masturbate while spying from his phone's app at anytime. I wouldn't know this, but he admitted it one day that he could "see and hear" me after he had kicked me out for the umpteenth time. He deleted my contacts of course so I could only come to him for anything, but I was allowed one drug dealer so I could buy dope, since he was out of pills and I was now well into physical addiction.
Well, it was winter. I ended up being allowed to stay the night at my dealer's, which angered him because I'd usually sleep in my car. So he just had to call me and tell me he could hear me laughing and see me, because he thought it was proof he had caught me cheating. All stupid and ridiculous, especially given the situation. But he admitted to it. He never admits things so I was shocked. He must've been sure nobody would believe me anyway or else he would never have let his image, his weapon of normalcy that allows him to move amongst others and get away with evils, slip if he thought I could get that info out.
I went to the police. They said I'd need proof for them to investigate. He's a dangerous man. I have a lifetime restraining order against him; I cannot provide investigative evidence. All I can do is tell the truth and promise it's there if they do their job and look for it.
He has a profile on every online dating site known to me. Regularly preys on young, addict prostitutes. I caught him with a list next to his laptop with ladies' names and prices next to them like Donna—$200 etc. I asked what that was about; he said "I was just looking." Meaning, you can't prove more than what you found so that's all I will be admitting.
He had me meet up with a young hooker he met online to get dope once; she couldn't have been more than 16. I caught him hiding porn in hidden images like a pedo hacker would, which was odd, since he never hid porn from me. So I have a bad feeling it was illegal.
Looking back, his brother's girlfriend told me when I met him that she felt like he was recording her naked and in the bathroom when he let him and her stay there for a few months, but she wasn't sure and I had no reason to believe it. I wish I trusted her instincts.
I got away traumatized but alive, and I feel guilt about not being able to make police do their job and protect his future victims. His brother's daughter goes over there sometimes, and because her dad is a screw up, I worry he will prey on her. He wrote a letter for his brother's custody case that he knew was a lie, about the little girl's mom and her new boyfriend having sex in front of her.
He picked up his brother when he robbed a house at 6 am and called for a getaway driver. He has no problem finishing sex with a crying victim. When I say this man sends chills down my spine, it's true. I've blocked out so many examples due to trauma, so these are the ones fresh on the surface and I refuse to dissolve the walls without the presence of a qualified specialist to assist with the aftermath.
So I hope some of this helped paint a picture. Not being believed was the hardest part of healing. Knowing he got away with everything after I reported his criminal behavior to authorities just made him more bold in what he thinks he'll be able to get away with, and that means trouble for anyone who he preys on after me. Things need to change.