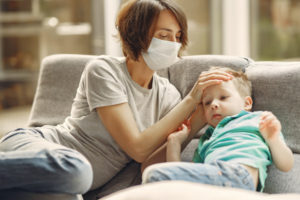 By Joanie Bentz, B.S., M.Ed., BC
Munchausen Syndrome by Proxy (MSBP) is a mental health problem in which caregivers make up or cause illness or injury in a person who is under their care, according to Michigan Medicine. The victims are usually children, the disabled, or the elderly. Some experts view MSBP as a type of sociopathic behavior, specifically as a subgroup of borderline personality disorder.
What does this syndrome look like?
Three different experiences of Munchausen Syndrome by Proxy
Chloe is a grown woman who has childhood memories revolving around doctor visits, her mother's illnesses and her mother's concern about others  being sick. Her mother insisted on caring for dying family members in her home, but contradicted this kind image when she mistreated Chloe. Chloe's mother only treated her with kindness when Chloe was sick and needed care.  Now that Chloe has the cognitive maturity to be able to question the hyper focused behavior on illness and disease that was dumped on her in childhood, she wonders if her mother had some sort of mental health issue.
Loreen is a divorced mother and a healthcare worker with several children.  Loreen had a physical disorder that required multiple surgeries and doctor visits.  She spent most of her childhood being examined by doctors, poked and prodded.  Her mother carried guilt that she smoked and drank during the pregnancy, thus creating the anomaly. Loreen's mother never left her alone concerning her health, and always insisted she was not well, but gave her everything she wanted materially.  Loreen now does the same thing to her own children. She over exaggerates their minor illnesses, seeking unnecessary interventions and providing her undivided attention and care.  She also fabricates illnesses in the children to prevent her ex-husband from contacting them.
Caitlin  is a healthcare worker who had several children, but all seemed to become very sick after birth. Caitlin was constantly bringing her children to the emergency room, eliciting pity and attention from the hospital workers.  A few close family members suspected something was wrong when one of the children died as an infant.  It was discovered that Caitlin was administering various substances into the children's bloodstreams that were difficult to detect, so that they would appear sick from unknown causes.
Defining Munchausen Syndrome by Proxy and atypical profiles
In 1977, an English pediatrician named Roy Meadow,  introduced Munchausen Syndrome by Proxy.  Another term is factitious disorder by proxy. This syndrome is characterized by a person, most always a woman, that seeks attention by fabricating an illness in her children. If the mother's children are found by doctors to need treatment of some sort, the mother gains a source of narcissistic supply through this treatment.
Read more: What's a sociopath?
The mother, during a routine doctor visit, may bully the doctor into writing unnecessary prescriptions.  She may also demand that he write false information about the children's health.   MSBP has been characterized as a sociopathic personality disorder, and has been described as being similar to a serial bully.  Presenting oneself as a false victim is also a MSBP trait. They are convincing liars and seem to have a Jekyll and Hyde nature.
Most unnerving is that women who have this disorder often work as nurses, caretakers for the elderly, or other healthcare workers.  They know the lingo, which gives them more credibility with the doctors treating their victims.
Varying degrees of disorder
MSBP seems to operate on a spectrum.  With Chloe, we see that she was the victim of a mother who had a moderate form of the disorder.  Chloe managed to recognize the pathological behavior and realized that her mother inordinately focused on sickness, medicines, hospitals and death.  By capitalizing on the illness of others and rescuing them, the MSBP individual receives praise and enjoys the glory of being seen as a hero, gaining narcissistic supply.  I had heard this behavior described as "malignant hero syndrome."
Loreen seems to be a victim of transgenerational MSBP.  Her mother' guilt over Loreen's birth defect mutated into an obsession over Loreen's health. Her mother  needed to be portrayed as the rescuer as a continual effort to overcome her self-loathing.  Her mother created a sort of monster in Loreen, where Loreen seeks unnecessary medical attention for her children, and in a passive-aggressive manner, bullies her ex-husband and alienates him from the children.
Caitlin appears high on the spectrum, where the disorder results in severe mistreatment, abuse and eventually death in one of her children. When the mother brings her child to the ER, all focus is on the mother's distraught nature  which garners sympathy, and the mother feels significant and worthy of attention.  Many times if the victim of a MSBP individual survives, they refuse to be a witness to the crime, as if Stockholm Syndrome is a factor in not reporting the facts to authorities.
Munchausen Syndrome by Proxy and co-occurring disorders
MSBP is an attention-seeking, sociopathic disorder that can overlap with other disorders, such as narcissistic personality disorder and borderline personality disorder.  It is difficult to identify which disorder is the dominant one driving the individual to harm their own children and other vulnerable people.  When their victims are treated by doctors, they receive fuel to carry on, similar to how a narcissist behaves when they mistreat their targets. It can be an adrenaline rush for them. 
It is especially important to take note that an individual with Munchausen Syndrome by Proxy commonly chooses a career in the healthcare industry.  This fact in itself is alarming — but we should not be surprised in our world overrun with sociopaths and other disordered individuals.