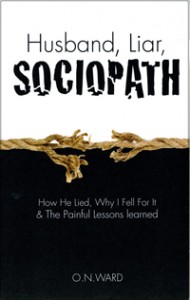 Every week, a chapter of my book, "Husband, Liar, Sociopath: How He Lied, Why I Fell For It & The Painful Lessons Learned" (available via Amazon.com, just click on the title or book cover) will be published here on Lovefraud. To read prior chapters, please see the links at the bottom of the post.
Chapter 52B:  The Tsunami Pounds Ashore
In spite of the adultery and Paul's clear manipulation in getting me to move to Utah, which was clear to anyone who had two eyes and a brain, Paul's family rallied around him. I'm sure the money he lavished on them did not hurt, and he likely reframed everything, finally revealing the "truth" about me. He had endured me long enough. Surely, they wanted him to finally be happy.
I had always enjoyed the time I spent with Paul's mother, and she consistently presented herself as deeply religious and moral, so when Paul took Ella, I reached out to Ruth for help. I was not prepared for her response. She said she was sure Paul was doing what was best for the kids, that he would never do anything wrong or hurtful, and that I was just being melodramatic and would be laughing about this in no time. Knowing Daniel was distressed about Ella, Ruth sent Daniel a letter quoting advice from a famous sports coach that said he should never allow himself to be upset about anything for more than twenty-four hours. Ruth added that Daniel needed to show more respect for his father and his father's decisions. She was sure Daniel was only angry with Paul because I was encouraging Daniel to feel that way. Worse, she told Daniel that, obviously, I did not value family the way Paul and Linda did.
Ruth's behavior is another example of "cognitive dissonance" at work. How does a woman who takes great pride in her strong religious beliefs, goes to church every Sunday, and admonishes others for any lack of ethics or morality not even blink an eye at the amoral and hurtful behavior of her own son? How did she rationalize the inconsistency between her religious beliefs and Paul's adultery and other hurtful behavior? Paul really deserves to be happy? Onna probably drove Paul away—what else was he supposed to do?
Daniel was hurt and incredulous. He wrote unrepeatable words on his grandmother's letter. Paul sent me an email with a not so veiled threat that he would take me to court for slandering him to his family. Ruth and I never spoke again. Given Ruth's choice to blind herself to her son's behavior and to be insensitive and hurtful towards Daniel, I had no interest in continuing a relationship with her even without Paul's threat.
I was furious at Jessica for her betrayal and for abandoning our relationship at a time when I desperately needed to maintain the close relationships in my life. Some nights my anger at her kept me awake. In a pique of frustration at 3:00 a.m. one sleepless night, I pounded my pillows, sobbing, and then threw each of them against the wall. It did not help. It just made me feel stupid, because I knew my fury was misplaced. I tried to view Jessica as the victim of a brilliant and well-funded sociopath. I had been fooled and manipulated by Paul for almost twenty years. It would be unfair to hold my teenage daughter to a higher standard.
Even though I knew Jessica was slipping away, I refused to compromise my morality or my parental obligations to win her favor. So I lost her. She was seventeen. The courts would allow her to pick with whom she wanted to live. My lawyer explained, to my shock and dismay, that the mockery Paul had made of our marriage vows, the alleged financial dishonesty and manipulation (which would take considerable time and money to prove), the verbal abuse toward me, and his loose sexual ethics did not matter to the court in determining whether or not Jessica could live with her father. She moved in with Paul and Linda.
The day she packed her belongings to make the transition official, I felt dead inside. I could hardly breathe. Tears flowed, ignoring any attempt to slow or halt them. I had lost my daughter.
With Jessica no longer living at my house and indicating little, if any, interest in returning for an overnight, I changed the locks yet again and voided Jessica's code for the alarm system. Given her lies about allowing Paul into the house, and fearful that Paul might escalate his emotional and financial attack on me to physical abuse, I could not allow Jessica unsupervised access to my house. It was horrible to not be able to trust my own daughter, but I couldn't.
Start from the beginning:
Go to previous chapter:
Notes
Identifying names, places, events, characteristics, etc. that I discuss here and in my book have been altered to protect the identity of everyone involved.