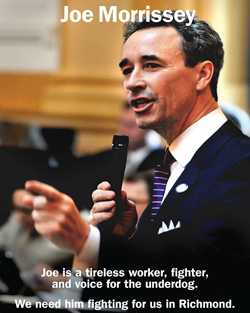 I learned a new word while investigating the topic of this article, which was suggested by a Lovefraud reader. Here it is:
"Contumacious (adj) Stubbornly perverse or rebellious; willfully and obstinately disobedient."
This word was used in a court decision to describe the behavior of Joseph D. Morrissey, 57, a lawyer and former member of the Virginia House of Delegates who is running for re-election tomorrow. Here is the context:
Frequent episodes of unethical, contumacious, or otherwise inappropriate conduct mar Joseph D. Morrissey's career as prosecutor and private defense attorney. Evidence gathered by F.R.D.E. Counsel and made a part of the record during the hearing before this panel demonstrates Morrissey's fifteen year history of contempt citations, reprimands, fines, suspensions, and even incarcerations arising from unprofessional conduct mostly involving an uncontrollable temper, inappropriate responses to stress and dishonesty.
That's what judges in the United States Court of Appeals wrote on September 11, 2002, upholding Morrissey's disbarment as an attorney, which he had appealed.
What did Morrissey do to lose his license?
Released a court case witness interview at a press conference
Lied to his probation officer, after trying to claim he had performed his community service hours, when he didn't.
Berated a judge in court
Wrote a threatening letter to a judge
Fist fight with a home repair contractor
Multiple contempt of court convictions
Fist fight with an opposing lawyer during a criminal trial
Another scandal
All of that happened more than 10 years ago. So why did the Lovefraud reader suggest that I investigate this guy now?
Despite his history of legal problems, Morrissey, calling himself "Fighting Joe Morrissey," was elected to the Virginia House of Delegates in 2007. In January, 2013 he made national news by waving an unloaded AK-47 on the floor of the House of Delegates during a debate on gun control.
Last month Morrissey was convicted of contributing to the delinquency of a minor. Authorities had evidence that he engaged in a sexual relationship with a 17-year-old girl who worked in his law office. This girl is pregnant, although no one has confirmed the identity of the father.
A naked photo of the girl was found on Morrissey's phone, but he tried to claim that the phone had been hacked.
By the way, Morrissey already has three kids with three different women.
Morrissey was given a work-release arrangement. That means he is allowed to work at his legal practice during the day (yes, he got his license back) and sleep in the jail at night.
Under pressure, Morrissey agreed to resign from the legislature. A special election is being held to replace him tomorrow and Morrissey is running in it, hoping to be re-elected.
I swear I'm not making this up. Read:
Incarcerated Va. Del. Joseph Morrisssey running for reelection as independent, on WashingtonPost.com.
Del. Joseph Morrissey resigns in wake of conviction and promises to run again, on WashingtonPost.com.
Virginia State Delegate Joe Morrissey drops F-bomb on live TV over sex scandal, on NYDailyNews.com.
The Warrior gene
Unbelievably, while researching this story, I came across a 2011 article by Curt Autry of the NBC12 television station in Richmond, Virginia. Autry wrote about the "warrior gene," and Joe Morrissey had actually consented to be tested for it.
Genetic research has produced evidence that the warrior gene officially the MAO A gene (monoamine oxidase A) may predispose some men to sociopathy.
Dr. Liane Leedom wrote about this on Lovefraud:
The mutation related to sociopathy makes it less likely that the MAO A gene will be expressed, resulting in lower levels of MAO A. MAO A is an enzyme that breaks down dopamine and other monoamine neurotransmitters such as serotonin and norepinephrine that are critical in emotional responses and impulse control.
Dr. Leedom explained research showing that, "high testosterone levels were only associated with ASPD and aggression in individuals with the low expressing MAO A genotype." See:
MAO A gene interacts with testosterone to predict sociopathy
Unsurprisingly, Joe Morrissey's test for the MAO A gene came back positive.
NBC12 Investigates: Warrior gene test, on NBC12.com.
"Works for me"
So Joe Morrissey has a history of lying, aggression, violence and multiple sexual relationships. And, he tests positive for the "warrior gene." So if he were to be evaluated for sociopathy, there's a good chance he'd come out high on the scale.
What does he have to say about his behavior?
Morrissey told Curt Autry, the NBC12 reporter that, compared to prior years, he was in control of his aggression:
JOE: "I would say I'm probably a better person because I've changed some of my focuses, and the way I deal with aggression."
CURT: "But you're still the same guy?"
JOE: "Yeah, I mean Fighting Joe works for me."
I think his last comment really shows insight into how Morrissey views himself: "Fighting Joe works for me."
In other words, he's just fine the way he is.