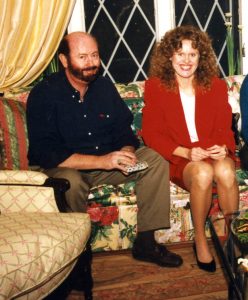 I spent three Christmases with my sociopathic ex-husband, James Montgomery. Every one of them was stressful, unhappy, worrisome and bereft of joyful holiday spirit.
Christmas 1996
We had known each other for five months. We'd already had a secret wedding in Australia with his friends and family. For friends and family in New Jersey, we were planning another wedding in January, complete with bridesmaids, a fancy reception for 60 guests and a six-piece band. Montgomery had already blown through $50,000 of my money and credit, and I did not know how we were going to pay for the wedding. And shortly before Christmas Montgomery pressured me into leasing a new car for him. His solution to our money problems for me to take out a home equity loan.
Montgomery told me he wanted to travel to see the parents of his deceased wife over New Year's. I later learned that he went to see his mistress, just two weeks before our formal wedding.
Christmas 1997
By this point I was living in perpetual stress as Montgomery continued to spend my money pursuing nonexistent businesses. He had talked himself into a regular gig on a local radio show as an "entertainment expert," and had spent several shows talking about the new Titanic movie.
For Christmas gifts, Montgomery bought me a blue padded toilet seat for the bathroom that he used, a toy train set that I didn't want, and a pet chinchilla. When I threw out Montgomery, I also threw out the toilet seat. I sold the train set in a yard sale. I grew to like the chinchilla, who stayed with me for about 10 years.
Christmas 1998
Montgomery's last-gasp business attempt was an exhibition about the Titanic wreck. The original show plan in New Jersey had failed, and he told me he had a contract to open the show in Orlando, Florida. So we moved temporarily to Orlando, 1,000 miles away. He drove ahead of me in the car that I leased for him. I followed driving a U-Haul truck, towing my car, and carrying our five animals, including the chinchilla. I arrived two days before Christmas. I did all the work of moving into our new apartment. Montgomery did nothing.
On Christmas, we planned to go out to dinner, but all the restaurants around us were closed. We ended up eating leftover chicken. A month later I learned that the contract for the show in Florida did not exist, Montgomery was cheating on me, and he'd had a child with another woman.
Anger and other poison
All of us on Lovefraud know what the betrayal of a sociopath feels like. Recovery from the experience means not only solving the practical problems — like how are we going to survive when we're broke — but rebuilding our internal balance and sense of self.
Emotional recovery is often the more difficult process. The pain and negative emotion of betrayal seeps deep into our souls, where it can hide, even after our lives return to reasonably close to normal. To truly heal, we need to excavate all of the old internal poison and let it go.
Our unhappy memories of ruined holidays can offer opportunities for deep healing.
Tapping away the pain
Here on Lovefraud and in my personal consultations, I often refer readers to the benefits of Emotional Freedom Techniques "Tapping." This is an alternative therapy that mixes ancient Chinese acupressure with Western psychology so as to relieve the emotional charge associated with past pain and betrayal.
Tapping works best when you use it to relieve the emotion associated with specific painful memories. Often thinking about our involvement with the sociopath is one big blur of confusion, disappointment and anger, so it's hard to know what to focus on. But we probably all have sharp memories of ruined Christmases or other special occasions. Therefore, bringing those holiday memories to mind and tapping to relieve the pain of them can really help us move forward in our recovery.
I recommend that you investigate this therapy. Free videos are available on the Internet — just search under "EFT Tapping." Lovefraud also offers a tapping webinar. If you're just beginning your recovery, or if you are well along in the process, this is a great way to get the sociopath out of your system.
What's your story?
Sociopaths typically ruin the holidays — what was your experience? And how did you recover? Please share your thoughts.