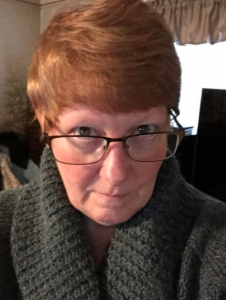 Editor's note: Lovefraud frequently posts media reports of domestic violence, but this one strikes close to home. Yesterday's story, "Ohio man charged with killing his ex-girlfriend and crashing his car with her body in the trunk," was not a random case.
The victim, Linnea Satterfield, 56, of Elyria, Ohio, was the cousin of Dr. Amber Ault, a Lovefraud author and an instructor for Lovefraud Continuing Education. Here is more information about her: "Elyria woman met estranged boyfriend in high school, daughter says."
Although nothing can truly heal the loss, in the following article, Dr. Ault explains how she hopes to create some good from the tragedy that befell her family.
Trying to Transform Tragedy
By Amber Ault, Ph.D., MSW
Dear Friends,
Last week, one of the members of my extended family died a violent death at the hands of the intimate partner she was leaving.
As I have processed the terror she endured and the impact of her murder on her close family, friends, and community, I have wanted to redouble my efforts to support people in safely exiting toxic relationships and creating a more peaceful, loving world in the process.
We can all do many things to make a difference. I would like to ask your help in amplifying one action I've decided to take, because together our impact expands.
I'm going to ask you to help me give away a book that helps people in toxic relationships.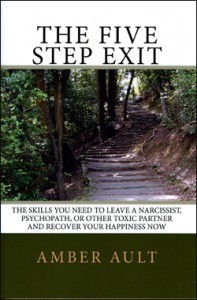 A few years back, I wrote a book on leaving toxic relationships called The Five Step Exit. It's short and pragmatic; it's light on theory and focuses on steps people can take 1) to identify whether they should leave a relationship, 2) to plan to do so in ways that minimize risk and drama, 3) to exit, 4) to respond adroitly to the fall-out of leaving, and 5) to recover.
I wanted this book to feel relevant to women and men and people whose identities vary from these categories, for people in heterosexual and LGBTQ relationship constellations, and for folks dealing with a range of problematic, exploitive behaviors.
Over the course of time, people from various faith traditions — fundamentalist Christians, Jehovah's Witness, Unitarians, pagans, atheists and agnostics — have told me the book works for them.
Not all toxic relationships are violent — or violent yet — so the book applies both to folks who have and have not experienced physical violence in their confusing, crazy-making, exploitive relationships. Sometimes, relationships that have been emotionally vicious or dramatic but not physically abusive turn violent [including homicidal and suicidal] only when a person makes a definite commitment to leaving. It's important to prepare for this possibility, as the Five Step Exit helps people to.
In the wake of my cousin's killing, one action I'm taking is to give the book away.
Because I published the book independently, I can control its price.
It's available in two formats: Kindle and paperback.
I have now set the price of the Kindle e-book as low as it can go, and will be running a "countdown deal" reducing the price to $0.00 as often as Kindle allows over the rest of the year. The book is now free to folks enrolled in various of amazon's Kindle borrowing and subscription services, such as Kindle unlimited, and is free to people who buy the paperback. A person doesn't need to own a Kindle to read it — free reader software is available to anyone in the world on Amazon.com.
I have eliminated all royalties on the paperback book, so that it is now available at cost in the US, EU, and UK markets —- $3.94, 3.52 euro, 3.27 GBP, respectively, with some slight variations across EU member countries and Canada. It's not completely free, but the price now is only the cost of paper and ink and producing the physical book.
Here's what I'm asking you to consider doing:
If you need the book, read it.
If you know someone who needs the book, read it — or lead them to it.
If you can afford it, please buy three copies of the book [in most environments, this will cost you a bit less than 12 dollars, 12 euro, or 12 pounds, plus shipping if there's a shipping fee] and do this with them:
Put one copy in a little free library box, donate it to your local public library or a school library, give it to a college or university library, or give it as a gift to the library of a non-profit you support.
Keep the other two copies on hand in a place you spend a lot of time so that you will be ready for the days when someone tells you about the difficult toxic relationship that scares or worries them. When that happens, hand over a copy, tell them to keep it as long as they need, and ask them to pass it along when they're free. If you work in a helping profession and know a colleague who could benefit from having a copy to share with clients or patients, please pass one of your three on to them.
No matter your line of work or your social world, it's likely that you encounter folks in these tough situations. It happens if you're a teacher or a cop, if you're a health care professional or cab driver, if you work in a non-profit or make art or coordinate a community garden or serve in the military or work in a religious organization. Certainly, if you're a psychotherapist or hair dresser or in a healing profession that creates spaces for people to tell you their stories, you have opportunities to help.
If direct action isn't in your comfort zone, order a couple of copies of the book and, instead of having it delivered to you, have it sent to your favorite non-profit, clinic, hospital, library, community center, mental health crisis unit, or psychotherapist's office. People there will put it to good use.
I won't receive any royalties (or other fees) from any download of the digital version of the book or any purchase of the paperback in the US, EU, or UK for the rest of 2017, so we can keep The Five Step Exit circulating as freely as possible for the rest of the year.
The man who stands accused of killing my cousin is currently in jail, awaiting trial. His bond has been set at ten million US dollars. That's a lot of money, but it has no relevance to the taking of a person's life, freedom, peace, or ease. I can't imagine any outcome of any legal process that will look or feel to me like justice being served. But: you and I are still here; despite its tragedies and crises, the world is still a wondrous place; and solid, safe, loving relationships are still worth creating.
Thank you for considering helping with the alchemy of transmuting my shock and grief into productive, proactive action in the wake of Linnea's horrifying murder. Life and real love are good; let's continue to lovingly fight like hell for the living.
Here's where you can order The Five Step Exit at cost in its digital and paperback formats:
Amazon US: http://www.amazon.com/dp/0982605331
Amazon Canada: http://www.amazon.ca/dp/0982605331
Amazon Great Brittan: http://www.amazon.co.uk/dp/0982605331
Amazon Germany: http://www.amazon.de/dp/0982605331
Amazon Spain: http://www.amazon.es/dp/0982605331
Amazon France: http://www.amazon.fr/dp/0982605331
Amazon Italy: http://www.amazon.it/dp/0982605331
Again, thank you for what you do to make the world a better place. You matter.
Best wishes,
A2
Amber Ault, Ph.D., MSW, is a sociologist and social worker who specializes in coaching partners and family members of personality disordered people across the globe from her home base at amberault.com. She is a member of the Lovefraud CE teaching team and will be co-facilitating a section of her Roller Coaster Relationship Recovery Online Intensive course with Donna Andersen this fall. For more details, follow Lovefraud.com and register for Amber's newsletter at amberault.com.