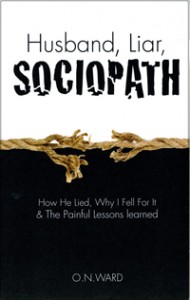 Every week, a chapter of my book, "Husband, Liar, Sociopath: How He Lied, Why I Fell For It & The Painful Lessons Learned" (available via Amazon.com, just click on the title or book cover) will be published here on Lovefraud. To read prior chapters, please see the links at the bottom of the post.
Chapter 50B: Oh My GOD! 
Hoping against hope that Paul had only used her for phone sex, I checked our bank statements. What were the odds? On the exact same day as the escort charge on our credit card, Paul had made a withdrawal at an ATM in Chicago. From deep inside, my body released a primal, guttural scream. My knees buckled. I dropped to the floor in a heap of disbelief and tears. I held down the vomit. I had only scanned a few months of the credit card, and there it was, a triumvirate of betrayal—prostitutes, sex clubs, and affairs. The bastard! And the amount of money Paul spent on his extracurricular activities in just the three-month period was staggering.
Every suspicion I had ever had resurfaced, framed with new meaning. I ran to my filing cabinet and found the old credit card receipts from before Paul had teased me for being so disorganized and then graciously offered to take care of our bills online. I knew what I would find. The sex expenses first appeared on the credit card the same month that Paul took over paying our credit card online. It was all lies and deceit, and he had the audacity to put it on our joint credit card.
Fool! Fool! Fool! depression screamed in my ear.
I raced to his home office, where a jumble of discarded receipts lay scattered on his desk. Pouring through them, I found evidence of a credit card I did not even know existed, including some receipts for high-ticket items. One was for a pair of $2,000 earrings from a Neiman Marcus in Florida, near where Paul had a client. They certainly had not been for me.
Any remaining fragment of the foundation of my life crumbled beneath me, but adrenaline continued to fuel me. I went to every closet and emptied every pocket of every article of clothing that Paul had left behind. I ripped apart drawers in which he still had lots of clothes. In a winter coat was his new lease. He had lied about the security deposit. He was spending about $5,000 a month on some luxury place, all the while saying he wasn't making any money and that it was "all he could find."
I picked up the phone. Paul had not yet discontinued the two credit cards for which I had just found out I was only an "authorized user." I knew they would not honor a request to send me the past year's statements. However, I pieced together enough information to use the automatic system that would list past transactions. It went back six months. I put the phone on speaker and took notes.
Two months earlier, there had been thousands of dollars of expenditures in California—hotels, restaurants, and over $3,000 in women's shoe stores. I poured through our bank statements, looking at every line and finding sizeable cash withdrawals made through our credit card that appeared in a place on our statement where, ordinarily, I would not look. The magnitude of the deceit was staggering. A day later, Paul cancelled these two credit cards, ostensibly to simplify our joint finances to set the stage for our divorce. Was this a coincidence? How had he known? Had an automated service called him back to confirm all of his questions had been answered satisfactorily?
Who was Paul? How long had he been doing this? I thought back to every woman with whom things seemed off when they were around Paul or when Paul spoke of them. The consequences were mind numbing. Surrounded by credit card statements, bank records, receipts, and piles of paper, I cried until I was numb and exhausted, my sides aching from the violence.
Start from the beginning:
Go to previous chapter:
Go to the next chapter:
Notes
Identifying names, places, events, characteristics, etc. that I discuss here and in my book have been altered to protect the identity of everyone involved.