The woman of a thousand faces: The many disguises woman wore to track down ex-lover who still owes her $1.6m after 20 YEARS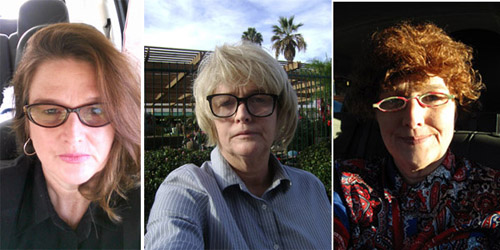 Katherine Underwood, 52, of Myrtle Beach, South Carolina, sued her ex-lover for $1.6m and won
Budimir S. Drakulic declared himself bankrupt and claims he can't pay her back
They started dating in 1994 and he would ask her for more and more money to borrow and never pay it back
She finally discovered he'd been spinning her lies and sued
She claims he has been a successful businessman and his hidden his cash
Without enough money to hire a private eye she began following him herself in 2003. She is still determined to get back her money
By DONNA ANDERSEN
Originally published by the Daily Mail on April 8, 2014. Reposted by permission.
A woman who has pursued her conman ex-boyfriend who now owes her $1.6m for 20 years today revealed the lengths she has gone to in her fight for justice – even the disguises she has donned to follow him.
Katherine Underwood, 52, of Myrtle Beach, South Carolina, sued Budimir S. Drakulic, 64, an inventor of medical devices and won. She accused him of fraud, and won. He appealed the judgment and lost three times.
But even as Drakulic's invention was the basis of millions of dollars in stock trading, he refused to repay Underwood and took steps to hide his money, alleged Underwood's attorneys.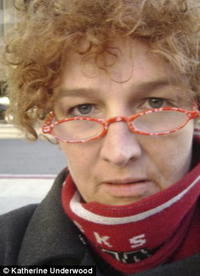 Underwood ran out of cash long ago. She could not afford to hire someone to track the fraudster.
But hell hath no fury like a woman scorned – or conned. Underwood did her own investigating and even put on disguises and tailed him as she untangled his web of businesses.
'I want my money back,' Underwood said. 'I want justice. I don't want him to walk away scot-free.'
According to court documents, in February 1994, Underwood worked at an Aspen, Colorado ski resort that's where she met Drakulic. He told Underwood he was originally from Yugoslavia but lived in California, where he was a UCLA professor and biomedical engineer.
A month later, Drakulic returned to Aspen and asked Underwood out. On their first date, he proclaimed his love. Although Underwood was not initially attracted to the man, Drakulic showered her with attention and affection, eventually winning her over with his charm.
Eight months later, Drakulic asked Underwood if he could borrow $5,000, claiming he needed to pay child support. Then he needed more money, and wanted Underwood to wire it into his mother's bank account.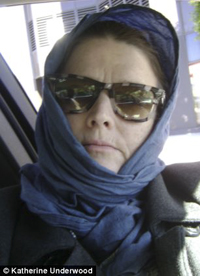 Underwood trusted and wanted to help her boyfriend, so she did it.
Court documents allege that in January 1995, instead of repaying Underwood as he promised, Drakulic asked for even more money. He then confessed the 'truth': He was working on a secret government project at Edwards Air Force Base, and he needed her money to finish it. When he did, he said the government would pay him $10 million.
All through 1995, Drakulic proclaimed his love for Underwood and asked her for additional tens of thousands of dollars. If he couldn't finish the secret project, he warned, he would lose everything and so would she.
When Underwood visited her boyfriend in California, he had her stay in Palmdale, near Edwards Air Force Base.
'Drakulic would meet Underwood at her hotel at odd hours, and call her late at night, whispering to her that he had sneaked off base to call her,' Underwood's lawsuit claimed.
'Drakulic told Underwood that the government would listen in on his calls, and not to speak to anyone about their relationship, or about the money he was borrowing.'
In October 1995, Underwood demanded that Drakulic sign a promissory note, promising to repay the $300,000 he had borrowed. He agreed.
Drakulic signed two more promissory notes, for $14,000 and $50,000.
Eventually Drakulic took all the money Underwood had more than $410,000. Underwood even borrowed money from her brother to give him.
For the next three years, Drakulic made excuses about why he couldn't repay the loans.