Ed Hicks—7 marriages, 4 of them overlapping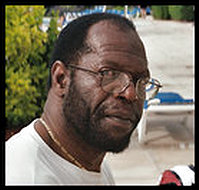 Ed Hicks married all of the following women. Four times, his marriages overlapped.
Audrey D. Jasper. Ed married Audrey on June 26, 1965 and divorced her on May 16, 1975.
Sharon Tealer. Ed married Sharon, the half-sister of Audrey, on May 24, 1975 and she divorced him on June 26, 1979. They had Christopher, Ed's first child, while he was still married to Audrey.
Monica Marschall. Ed married Monica on November 19, 1978, while still married to Sharon. She divorced him on December 18, 1986.

Johnette J. Erlandson. Johnette was a friend of Monica, who actually lived with Monica and Ed. Ed then married Johnette on July 2, 1986, while still married to Monica. Johnette is the mother of Ed's other two children. He divorced her on September 21, 1994.
Rose Marie Sewell. Ed married Rose Marie on November 3, 1995. She divorced him on May 6, 1997.
Julie Ann Flint. Ed married Julie on April 15, 1997, while still married to Rose Marie. When bigamy charges were filed, they were still married.
Sandra P. Goldin. Ed married Sandra on May 26, 2003, while still married to Julie. When bigamy charges were filed, they were still married.
Putting the story together
Sandra and Julie started talking to each other daily, putting together the real story of Ed Hicks.
The man never set foot in Cal Poly or the University of Washington, Sandra says, which is why he was always vague when talking about them. ("You know I'm not good at remembering details," was his excuse, according to Sandra.) His degree was from the University of Palmers Green, a diploma mill. Ed told Sandra that he went into the Air Force as a officer because of his college degree and played basketball on the Air Force team. In reality, he joined the Air Force right after high school and was a jet engine mechanic.
Julie and Ed lived together in Chesapeake—in a rented house—which is why Ed wasn't anxious to have Sandra visit. Ed essentially threw Julie out by leaving a typed letter on the bed, telling her to go back home to Utah. The letter blamed Julie for all the problems of their relationship.
According to Julie, after she left, Ed stopped paying the rent and other bills. Chesapeake court records indicate he was evicted—which Sandra says is the real reason why his children had to move in with her. And before moving in with her, Sandra says, Ed stayed with another woman during the week instead of living at a relative's house like he told her.
Ed cheated continuously on both Julie and Sandra. "While dating me, he was also seeing Lorraine, Cheryl and Linda, and was married to Julie," Sandra says. "While married to Julie, he was seeing Cheryl and Jane."
Convincing act
Despite his claims to the contrary, Ed Hicks did contact women through his Internet personals. Sandra and Julie were actually able to locate two women and warn them about Ed's history.
One of the women submitted a notarized statement to the Fairfax County prosecutor for the bigamy case against Ed Hicks. She indicated that she was in contact with Ed for a few weeks in June, 2005, after Sandra had thrown him out. Following are excerpts from her statement:
Ed was always seemingly straightforward, relaxed and charming. In his e-mails, phone and personal conversations, he was always articulate, attentive, complimentary, romantic. We seemed to have many areas of mutual interest. Conversation flowed easily. He always followed up with e-mails expressing his excitement and interest in continuing the relationship, particularly in making it a more serious romantic relationship. At no time did I detect any false notes in his demeanor or conversation. He truly seemed to be the attractive, athletic, educated, caring father and ex-husband, looking for a lasting relationship, someone with whom to share his retirement years (hopefully in the Bahamas).

Ed exerts a powerful pull, knowing what buttons to push and when. I have never met such a consummate liar; he truly lives his illusions and one believes him implicitly. It is amazing to me that before, during, and after his time with me and his wives, he is continually corresponding, meeting, dating other women (online at a minimum) and can keep all his lies straight, all his women separate and unaware of each other and enthralled with him. Obviously this is a very skilled con man, one who has lived this way for most of his adult life, who is never satisfied with anyone or anything, who needs a constant flow of women, money, attention and control.
Indicted for bigamy
Ed Hicks was indicted for bigamy by a grand jury in Fairfax County, Virginia, on July 18, 2005. His trial date was set for September 13, 2005.
But on the day of the trial, due to a quirk in the law, the prosecutor withdrew the case.
In Virginia, if a married person marries again, the second marriage in invalid. Because Ed was still married to Rose Marie when he married Julie, according to Virginia law, the marriage to Julie doesn't count. Ed had divorced Rose Marie before marrying Sandra, so the marriage to Sandra may have been valid.
The prosecutor asked that the case be "nolle prosequi," which meant it was dropped for the time being, but could be prosecuted in the future.
The Richmond Times-Dispatch published a front-page story about the case, Marrying man tied knots but left loose ends, on October 2, 2005. "It is mind-boggling to me that in Virginia , my marriage may still be legitimate," Sandra told the newspaper.
In the meantime, Julie filed bigamy charges in Chesapeake, Virginia, where she and Ed lived together for more than a year. And, her marriage was annulled.
On Dec. 6, 2005, Ed Hicks was indicted again on a charge of felony bigamy. This time the indictment was in Chesapeake, Virginia, for marrying Julie Hicks while already married to Rose Marie Sewell. A warrant was issued for his arrest.