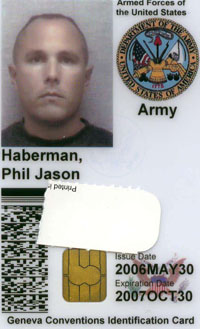 Blogs and websites expose con artist
Florida judge orders them removed
The woman sat at the defendant's table in a Sarasota County, Florida, courtroom on September 7, 2006. She did not have an attorney. She was terrified.
She was in court because her ex-husband, Phil Haberman, had secured a temporary restraining order against her. Haberman, who lives in Florida, accused the woman, who lives in California, of domestic violence. Haberman claimed she was cyberstalking him through e-mail and her blog. He asked for an injunction against her blog and against all other blogs and websites that had published information about him, including Lovefraud.
The last time the woman had seen Haberman was November 18, 2005. That time, they were in a Las Vegas courtroom for the annulment of their marriage. She didn't have an attorney that time, either. She couldn't afford one after Haberman came into her life and put her into debt.

Representing herself, she was unable to convince the Las Vegas judge that Haberman had defrauded her. The judge didn't allow her to present any of her 41 exhibits. Then as she was leaving the courthouse, bailiffs took her and her 14-year-old daughter to the ground, claiming she had reached for a weapon. She was detained and charged with civil disobedience.
The woman was terrified that it was all going to happen again.
Haberman claims Cyberstalking
When Haberman filed his petition for the domestic violence injunction, he identified himself with a military ID card. In his petition Haberman stated, "I am the Military/Public Safety Diving Director for the largest tech dive company in the world. I work with State and Federal Law enforcement dive teams, and military Special Operations Dive teams." He claimed that his ex-wife was sending harassing e-mails to his employer and customers, who were supposedly government contractors and law enforcement dive dealers.
The case for a final judgment of protection was heard by Robert B. Bennett Jr., chief judge of Florida 's twelfth judicial circuit.
Haberman showed up in court wearing a polo shirt, khakis and a standard-issue military haircut. "This started in 2004 when I was stationed in Fort Bragg," he began his testimony. Haberman said his ex-wife had left him harassing voice mails two and a half years ago, while they were still married. He testified that he had provided tapes of the voice mails to the North Port, Florida police. Haberman said his ex-wife continued to send harassing e-mails, disparaged him on her blog and cyberstalked him.
Cyberstalking, according to Florida statute 784.048, "means to engage in a course of conduct to communicate, or to cause to be communicated, words, images, or language by or through the use of electronic mail or electronic communication, directed at a specific person, causing substantial emotional distress to that person and serving no legitimate purpose."
"What's the purpose of this, your honor, but to harass, for no apparent reason, via the Internet, which qualifies under the Florida state statute for cyberstalking, which is a criminal act," Haberman testified. "She's collaborated with other websites to put out slanderous information about me. And that's part of my injunction, your honor. I would ask that the information on there be removed, due to the fact that it is slanderous and it is meant to harass; it is meant to cause undue stress for no apparent reason."
No legitimate purpose
When it was time for the ex-wife, Kristen Rhoad, to cross-examine Haberman, she floundered. Although she worked in the legal profession, she was not a lawyer. Just about every question she asked gave Haberman an opportunity to reinforce his contention that she was cyberstalking him.
"In your opinion, the websites that are posted, POW, Lovefraud, Greensickle, are not valid reasons for, um, serving a legitimate purpose?" she asked.
"Their purpose is to harass, which is what you stated in the voice mail, that you want to continue to do, henceforth the application for the injunction," Haberman replied.
Later in her cross-examination, Rhoad posed the question again. "So all of the blogs, and the Internet sites, have no legitimate reason, in your opinion."
"No they do not," Haberman said. "You collaborate with other people and have them call me a urinal cake, a stone-sucking maggot, and other things which serve no legitimate purpose."
"Mr. Haberman, why would these websites post these stories if they weren't true?"
"Because it all goes back to the same story, which all goes back to what you did two years ago, which has been going on."
Haberman's tone of voice was adamant, even though his words in that answer stated nothing.
First Amendment rights
Rhoad struggled to make her points. As she continued her questioning, the judge interrupted her. "I believe that you've admitted to sufficient facts for me to find that you have been stalking him on the Internet," he said.
"Your honor, I have a legitimate reason for posting."
"No you don't," he cut in. "You might have a legitimate reason for reporting him to the authorities, you might have a legitimate reason for suing him, you do not have any legitimate reason for posting this information on the Internet and then sending it out and saying, 'guess what's coming next,' and that sort of thing. No you don't. There is no legal basis to support your doing this."
"Freedom of speech, your honor, the First Amendment, gives me the right to post on the Internet true allegations, true allegations," she protested.
"Absolutely," Judge Bennett stated. "And if I find true allegations constitute a case of stalking, I'll enjoin you from having any contact with him, direct or indirect, that means to third parties over the Internet, by telephone, postage stamp, post card, letter, television commercial, whatever. I'm telling you if you have a problem with this man, if he stole something from you, sue him. He stole something from you, have him arrested. But you do not have a right to post this stuff on the Internet without having to pay some consequences. I can't stop you from exercising your First Amendment privileges, unless you commit a crime doing it. And what you're describing for me here I think is probable cause to believe that you have committed a crime."
Detective testifies for Haberman
The hearing wasn't over. Detective Mary Thoromon of the North Port police department took the stand. Her first statement was that she had been investigating Rhoad for misdemeanor cyberstalking, but was unable to bring the cyberstalking charges to a felony level. "I haven't been able to meet the requirements for that," she said.
Thoromon had been monitoring the ex-wife's blog for two and a half months. Asked by the judge to describe its contents, Thoromon testified:
"The blog itself, the one main one that I was looking at, is just a lot of information about Phil. Whether some of it's true or not, it's 127 pages long. So there's a lot of information in there. if you read through the blog, there's certain sections in it where basically she states she's never going to let this go. In my opinion, in reading it, she's trying to ruin the man, for whatever reason, I don't know."
Thoromon also stated Rhoad had posted e-mails on her site from people who say Phil had been dishonorably discharged from the military. "He's in the Guard now," Thoromon said. "I don't think they'd accept him if he'd been dishonorably discharged."
Rhoad asked Thoroman to specifically identify instances in her blog where she threatened Haberman. The blog was 127 pages long, the detective repeated, and had changed since she last printed it out. The detective could not at that moment point to a threat.
No pages of the blog were submitted into evidence.
Voice mail messages
The judge asked Thoromon to describe the content of the voice mail messages to Haberman. "They are from about two and a half years ago," Detective Thoromon said. "I cannot do anything with them because the calls were actually made to him outside of this jurisdiction, which is a lot of what I'm running into. I just don't have jurisdiction over certain things."
In her cross-examination of Thoromon, Rhoad said, "The tapes from two and a half years ago, you stated that it was outside of your jurisdiction."
"Yes, ma'am," Thoromon answered.
"Are you testifying today that you're not presenting those to this court?"
"No, I'm not presenting them. I don't have them with me."
Rhoad addressed the judge. "Your honor, I ask that the case be dismissed because verification. we can't say what was on the tapes."
"Denied," Judge Bennett said.
Support for Phil Haberman
Thoromon also stated that she had not filed charges for cyberstalking. Still, she believed that Haberman was in physical danger.
"My concern is that there are definitely people who have enlisted on your side," she said to Rhoad. "You're asking for people to help you find him, take him out."
"If you can present that?" Rhoad asked.
"I can't, honey, this blog has changed."
"You don't have any information on when I enlisted somebody to do something?"
"I honestly did not know I was testifying," the detective replied. "I thought I was coming here in support for Phil."
No blog pages indicating threats were submitted as evidence.
Order to remove all blogs
Judge Bennett then allowed Rhoad to testify.
"The reason I posted my blog is for clarification of who Phil Haberman is and to warn people of his sociopathic behavior," she said. "That's not just my statement. He has been told by the military, he's been under psych evaluation, he was dismissed from the military because his mental facilities are not capable of sustaining military."
The judge interrupted. "Your purpose for posting all this on the Internet is for what? What exactly are you trying to do?"
"To alert the women that have been his victims, like me," she replied. "To expose him for bigamy, for proposing marriage to four or five other women. I have sworn statements in my documents that he's proposed marriage to, while married to me. He's had two children during the marriage to me. He's scammed one woman out of $5,000, dating her while married to me. He has disgraced the military. He has pretended to be certain things that he's not. Even his title that he puts in the petition is not true. He is a sales rep for a scuba company. He's not the director of military, tactical, whatever that he's claiming. He does not work with Special Forces; he was attached to Special Forces."
Haberman's ex-wife gave more examples of his statements and actions that she believed indicated he is a con artist. "I don't write to harm him," Rhoad said. "I write to expose him."
"I think, Ms. Rhoad, you're a menace," Judge Bennett said. "I think you're absolutely motivated by revenge and a desire to destroy this man. Your allegations may be true. The First Amendment protects you to the extent that you don't use it to harm others. The First Amendment is not an absolute guarantee. None of the Bill of Rights is absolute. We can't use our right to bear arms to go out and murder people. We can't use our right to free speech to set out and accomplish the destruction of a person's reputation. I told you. If you have a problem with him, have proper authorities arrest him and prosecute him. If he owes you money, sue him civilly. But you're going to stop this."
The judge granted Haberman's injunction. He ordered Rhoad to be evaluated by a licensed mental health professional. Judge Bennett then read the order he had written, which stated,
"Respondent shall remove or cause to be removed all blogs, e-mails or other web-based communications to petitioner or third parties that refer to petitioner and which are posted or caused to be posted by respondent."
"I don't know how you go about doing that, but that's going to be required," Judge Bennett said. "You are to have absolutely no contact with this gentleman, directly or indirectly. If this injunction is violated further I can sentence you to six months in county jail and don't think that I will not do it."