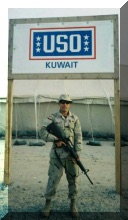 Phil Haberman wants stories removed
Authors have the proof they need
Phil Haberman's campaign to get stories about him removed from the Internet began long before he sought an injunction against his ex-wife.
Haberman left a voice mail for Lovefraud on February 22, 2006. He demanded that the True Lovefraud Story about him, originally published in November, 2005, be removed. The message was ignored.
He called back on March 27 and said Lovefraud's report that he was no longer in the military was untrue. "I'm in a new reserve unit in Florida ," Haberman said. He was asked to supply documentation of his reenlistment. None was received.

Haberman's campaign picked up steam in June when he sent Lovefraud a scan of his new military ID. The card showed an issue date of May 30, 2006 and an expiration date of October 30, 2007. To verify Haberman's claim, Lovefraud contacted the P.O.W. Network.
P.O.W. Network
The P.O.W. Network was launched in 1989, and has been unmasking people who claim false military credentials since 1998. The organization is cited on Jouralism.org as a resource for reporters attempting to verify military claims.
The P.O.W. Network had previously posted Haberman on its phonies list for attempting to obtain a Purple Heart medal that he did not deserve. In June, Haberman sent his new ID to the organization as well. "I would suggest that you rethink your posting on me on your website," he wrote. "As you can see by the date of issue on my ID card, I'm still in the military."
The P.O.W. Network removed Haberman's name from its phonies list while investigating his statements through its many military sources. After determining that Haberman continued to make false claims, he was placed back on the website.
In fact, the P.O.W. Network gave Haberman his own page. (In 2012, because the list of military fakes had grown so large and difficult to maintain, the list of phonies website was taken down.)
Greensickle.com
Greensickle.com has posted its own series of Stolen Valor exposes. Eric, one of the Greensickle blog authors, served in the 82nd Airborne Division based out of Fort Bragg, North Carolina, as a "mud-sucking, ruck-humping airborne infantryman." Eric says he takes pride in nabbing fakes whenever he can.
Greensickle posted the story calling Haberman a "urinal cake." (The term was applied to least two other military frauds on Greensickle as well.) When Haberman found out about the post, he sent Greensickle 13 e-mails to prove himself.
Suspicious, Eric asked Haberman about his military occupational specialty (MOS) as a Marine. Haberman claimed two specialties, which was highly unlikely for someone who only served 15 months. When Eric asked Haberman to explain himself, he got no reply.
On July 4, 2006, Greensickle.com updated the Haberman profile, calling him a pathological liar.
Dallas Observer
The first article that reported Haberman was a fraud was published in the Dallas Observer newspaper on September 1, 2005. Written by Glenna Whitley, co-author of Stolen Valor , the headline was:
G.I. Jerk Phil Haberman claims he fought with special forces in Iraq, but he's about as real as Rambo
Several people who knew Haberman wrote letters to the editor, agreeing with the article. Haberman wrote a letter calling the story slanderous.
The Dallas Observer stood by its story.
Irritated Vet
Thomas Ruyle, author of the Irritated Vet blog, served in the Army from 1994-98 and in the North Carolina National Guard from 2001-05. Ruyle served 10 months in Iraq with the National Guard. Haberman, for the month or so that he was in Iraq, was in the same Guard unit.
According to the Irritated Vet, Haberman was not Special Forces and was not wounded. He was stripped of his weapon and sent home early.
"Give it up, dude, a lot of us are on to you," Ruyle wrote. "The farce is over."
Remove the blogs
Haberman named all of these websites and blogs in his petition for a restraining order—the Dallas Observer, Lovefraud, the P.O.W. Network, VeriSeal, Blogspot (for the Irritated Vet), along with MySpace. "I am also asking for an injunction to be issued ordering her blog, and any collaboration she has had with other Internet sites, to be removed from the Internet," Haberman wrote.
All of these websites had posted their Haberman stories before Rhoad launched her blog on July 13, 2006. All of the authors had conducted their own research and determined that Haberman's stories were half-truths, exaggerations or outright lies.