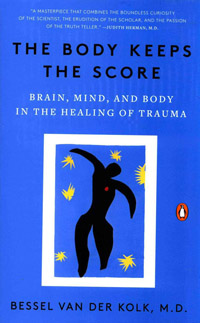 Book Review: The Body Keeps the Score Brain, mind, and body in the healing of trauma, by Bessel van der Kolk, M.D.
Review by Donna Andersen
Many, many Lovefraud readers say that after your experience with a sociopath, you have post-traumatic stress disorder (PTSD). Even if you haven't been diagnosed by a professional, you're probably right. But what, exactly, does that mean? And what can you do about it?
All the answers are in this book. The Body Keeps the Score Brain, mind and body in the healing of trauma, is the best explanation I've ever seen on the causes, effects and treatment of trauma. I strongly recommend that every mental health professional who reads Lovefraud also read this book. And for those of you who are experiencing PTSD and want to understand it, the book will be extremely helpful, although it also may be triggering to your symptoms.
The author, Bessel van der Kolk, is a psychiatrist who has been researching trauma since the 1970s. He is medical director of the Trauma Center in Brookline, Massachusetts, and a professor of psychiatry at Boston University School of Medicine.
Trauma is caused by terrible, horrific life experiences. But some in the medical profession attempt to treat trauma by dispensing pills. Van der Kolk is well known for advocating a holistic treatment approach, using approaches such as "mindfulness" to address the root cause so that true healing is possible.
The following quotes from his book show his views:
The theory that mental illness is caused primarily by chemical imbalances in the brain that can be corrected by specific drugs has become broadly accepted, by the media and the public as well as by the medical profession.

In many places drugs have displaced therapy and enabled patients to suppress their problems without addressing the underlying issues.

After conducting numerous studies of medications for PTSD, I have come to realize that psychiatric medications have a serious downside, as they may deflect attention from dealing with the underlying issues. The brain-disease model takes control over people's fate out of their own hands and puts doctors and insurance companies in charge of fixing their problems.
Early in the book, van der Kolk explains how the brain develops and functions, and how trauma affects it. He explains your built-in fight-flight-or-freeze reaction, and how trauma keeps you alert to danger, and pumps your body full of stress hormones, even when the danger is over or doesn't exist anymore. He writes:
After trauma, the world is experienced with a different nervous system. The survivor's energy now becomes focused on suppressing inner chaos, at the expense of spontaneous involvement in their life. These attempts to maintain control over unbearable physiological reactions can result in a whole range of physical symptoms, including fibromyalgia, chronic fatigue, and other autoimmune diseases. This explains why it is critical for trauma treatment to engage the entire organism, body, mind, and brain.

The bottom line is that the threat-perception system of the brain has changed, and people's physical reactions are dictated by the imprint of the past.
So how do you recover from trauma? Van der Kolk says survivors need to become familiar with the sensations in their bodies. "Physical self-awareness is the first step in releasing the tyranny of the past," he writes.
The idea is to be able to identify and process physical sensations, so that the emotions attached to them can be released. That's one of the objectives of mindfulness, which is observing your internal states, without judgment.
Van der Kolk has found other ways that can help writing, movement such as yoga and dancing, EMDR, and even participating in theater. He writes:
The challenge of recovery is to reestablish ownership of your body and your mind of your self. This means feeling free to know what you know and to feel what you feel without becoming overwhelmed, enraged, ashamed or collapsed. For most people this involves (1) finding a way to become calm and focused, (2) learning to maintain that calm in response to images, thoughts, sounds, or physical sensations that remind you of the past, (3) finding a way to be fully alive in the present and engaged with the people around you, (4) not having to keep secrets from yourself, including secrets about the ways that you have managed to survive.
Van der Kolk's book is tremendously insightful. It is backed up by solid research and his own nearly 40 years in the trenches, working with traumatized clients. I could keep quoting passages from The Body Keeps the Score, but that doesn't begin to do justice to his work.
If you're wondering why you feel so crazy and out-of-control after your experience with a sociopath, read this book. If you want to understand how trauma has affected you, read this book. If you want suggestions on how you can recover, read this book.
But keep in mind that reading the book won't create your healing it will just point you in the right direction. Van der Kolk writes:
Psychologists usually try to help people use insight and understanding to manage their behavior. However, neuroscience research shows that very few psychological problems are the result of defects in understanding; most originate in pressures from deeper regions in the brain that drive our perception and attention. When the alarm bell of the emotional brain keeps signaling that you are in danger, no amount of insight will silence it.
That means recovery requires action and participation on your part. There is internal work to do, and the best way to do it is with the help and support of someone who is willing to walk with you through the darkness.
Van der Kolk offers advice on choosing a professional therapist. He points out that there is no one "treatment of choice" for trauma the best treatment is what works for you. His book may give you some ideas on how to proceed.
The Body Keeps the Score Brain, mind, and body in the healing of trauma is available on Amazon.com.