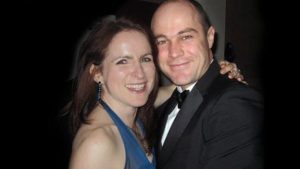 Emile Cilliers, a British army sergeant, was convicted last week of attempting to kill his wife, Vicky.
The two were avid skydivers, and in April 2015, he tampered with her parachute before a jump. She fell 4,000 feet, but miraculously survived.
Earlier in the week, Emile Cilliers damaged gas fittings in their home. If the gas had exploded, it would have killed Vicky and their two children.
But even though the court found him guilty, Vicky Cilliers can't believe her husband was capable of murder. Read this story:
'I still can't believe he tried to murder me': Tearful wife of Lothario army sergeant refuses to accept his conviction for cutting her parachute, says she has NO plans to divorce him and reveals she's told their kids 'he's at work', on DailyMail.co.uk.
Emile Cilliers is clearly a sociopath. Here's the evidence:
He tried to murder his wife, Vicky, twice in one week.
He wanted to be with his mistress and get out of debt — killing Vicky and collecting her life insurance money would enable him to do both.
He lied. A lot.
He had two children with his teenage sweetheart, and then abandoned them all.
He married his first wife without breaking up with his sweetheart.
He married his second wife — Vicky — but continued to sleep with his first wife.
He engaged in one-night stands and sex clubs.
He was an adrenaline junkie.
He proclaimed his innocence — despite substantial evidence of his guilt.
Vicky Cilliers admits that her husband lied, ran through money and cheated on her. So why doesn't she believe he could kill her?
This looks like a massive case of cognitive dissonance, combined with addiction to the sociopath and trauma bonding.
Cognitive dissonance
Cognitive dissonance theory says that human beings have a psychological desire for harmony between our beliefs and our actions. If our beliefs and actions are not in harmony, we experience dissonance, or conflict.
How does dissonance happen? If we believe something, and then hear new information that casts doubt on our beliefs, we experience dissonance. Or if we believe something, and then act in a way that is contrary to our beliefs, we experience dissonance.
When we experience dissonance, we resolve it in one of three ways:
We change our belief or behavior.
We acquire new information that outweighs the dissonant belief.
We reduce the importance of the beliefs.
Here's a good explanation of cognitive dissonance on SimplyPsychology.
Vicky's psychological bonding
Here's how Vicky described her marriage, according to the Daily Mail article:
Indeed, pictures taken on formal Army nights show Cilliers to be a dapper military man whose uniform fails to hide the gym-honed physique beneath. At his wedding on the South African cape, Cilliers, on his knees as he makes his vows to Vicky, is depicted as a true romantic. He adored adrenaline sports such as skiing and skydiving, was good around the house and a devoted, hands-on father. He was also kind and endlessly affectionate. He would put Vicky's favourite wine in the fridge, cuddle her and frequently tell her: 'I love you.'

They met when he came to her for physio after a skiing accident. By the time of their wedding, she was already five weeks pregnant. Their first three years together, building a home, their family and careers were happy, their marital harmony marred only by Cilliers's free-spending ways. Vicky is very clear that the image of a toxic, troubled relationship which emerged from court was wrong. Their own sex life continued until the eve of the jump in which she should have died.

'After I fell pregnant with our son, Emile went on a ski trip and came back a different person – my husband had simply disappeared,' she says. She recognised he was having an affair but felt too vulnerable in pregnancy to fight it so she set a deadline of September 2015 for it to be over and her husband's financial problems to be resolved.
This is a perfect example of how I always explain that people become addicted to sociopaths:
Pleasure in the beginning of the relationship starts the psychological bond.
Vicky was love-bombed by a dashing and romantic army sergeant. She quickly became pregnant.
Sociopath introduces fear and anxiety. This makes the psychological bond stronger.
Emile Cilliers was blowing through their money. Then Vicky becomes pregnant again and learns that her husband is having an affair.
Target turns to the sociopath for relief from the fear and anxiety, which tightens the psychological bond again.
Vicky says she wanted the affair and the money problems solved by a certain date. The article isn't clear, but I'm willing to bet that her husband agreed to this, and Vicky's anxiety was reduced. They had sex. They had sex the night before Emile Cilliers cut the cords of her parachute, hoping Vicky would plunge to her death.
Vicky's trauma
Vicky was a very experienced jumper — she was a veteran of more than 2,600 jumps. On the day of the fateful jump, her instincts were screaming at her not to go. "I felt a catatonic fear as the aircraft doors were closing, like nothing I'd ever known before," she says.
Despite the overwhelming fear, Vicky jumped out of the plane. Her main parachute didn't open. Then her reserve parachute didn't open. Can you imagine her terror as she plunged to earth?
Upon regaining consciousness, she had to deal with recovering from her massive injuries, the prosecution of her husband, and being a mother to two young children who were asking for their daddy.
Psychological overload
Vicky was trauma-bonded before the accident. I think that, given everything she's been through, she's in psychological overload. She can't take in one more shock — the shock that her husband was evil, and everything he told her was a lie.
She believed her husband loved her. I'm sure she also believes that a man who loves her would not attempt to kill her. Since Emile Cilliers was found guilty of attempted murder, Vicky is experiencing cognitive dissonance. Something has to give. Her solution is to not believe her husband is capable of killing her.
For Vicky, the denial may actually be a protective measure. Perhaps if she also accepted that her husband is a sociopath who tried to kill her, she would just fall apart.
My guess is that in time, Vicky will be able to absorb the truth. But she's not ready to do it yet.