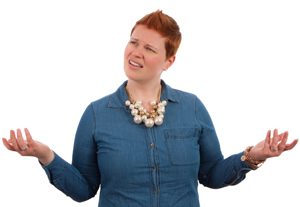 When you're dealing with sociopaths, figuring out what they really want is nearly impossible. Why? Because they keep changing what they want.
When my ex-husband, James Montgomery, moved into my house, I agreed to convert my basement, which I used as a small gym, into an office for him. I put away my gym equipment. I hired builders to install more electric outlets to run his array of computers, televisions and business equipment, which required enclosing the lower part of the walls. Making the improvements, and installing a small bathroom downstairs, cost me $6,000. (He promised to pay me back, but of course he never did.
When Montgomery first moved into the office, he was delighted.
When we had an argument, he complained about being forced to work out of a dark, dank cellar.
Then, when he was trying to butter me up, he was pleased that "Nuffles" (one of his pet names for me) made such a nice office for him.
Later, as our marriage was falling apart, he again bitterly complained about his deplorable working conditions.
Did Montgomery like the office, or not? I have no idea. The whole issue illustrates how sociopaths will say anything, even directly contradicting themselves, depending on their agenda at the moment.
Moving the goal posts

Many Lovefraud readers have described another, more insidious manifestation of changing sociopathic demands the phenomenon of continuously "moving the goal posts." Here's how this works:
Sociopaths tell you what they want, which we'll call "A." You give them "A" except now they want "B."  You give them "B," but now they want "C." This can continue for "D," "E" and "F." In fact, it can continue through the entire alphabet, and then through the entire Greek alphabet. Each time, sociopaths insist that this will make them happy.
One target of a sociopath used a different metaphor to describe this behavior "moving the line in the sand." This person said:
Moving the line in the sand is  a red flag.  It serves many purposes.  It damages the target.  But it also grooms, tests and weakens the target.  Plus, the target  commits and gets deeper and deeper to recoup the loss (remember we talked about  recouping the loss.)   Because it is used to test the target, I think it is an important red flag to look out for.

The target finds himself/herself tolerating more and more and doing more and more and the spath does less and less and  needs/wants /implicitly demands/expects more and more.  Sometimes its from an overt agreement, sometimes its  from implicit agreements that the line gets moved.
Off balance
What happens to you as they keep changing the rules? You are totally off balance. You can't figure out how to treat them, or how to be around them, because you keep getting mixed signals.
Sociopaths then make matters worse by demeaning you for not doing what they want. You try to explain that you did what they wanted previously, but now they want something different. The sociopaths vociferously deny that they ever told you anything different, and insist that they always wanted what they recently demanded and that you misunderstood them.
Sociopaths are so convincing that you begin to wonder if you did, indeed, misunderstand them, and if you're losing your mind.
Moving the goal posts is a form of gaslighting. It messes with your sense of reality.
Empty inside
Why do sociopaths do this? Why do they keep moving the goal posts?
I think the main reason is that sociopaths are not fully formed human beings — they're empty shells. They have no core personality, no inner fiber, no guiding purpose. Their desires are not based on stable objectives, but passing fancies. They make demands according to whatever they feel like doing in the moment,
Plus they get bored easily. As soon as they tire of one form of entertainment, they want another.
A key question is, do sociopaths do this intentionally? Given that some sociopaths actively try to crush their targets, I certainly think it's possible.
What do you think? Did you experience sociopaths who kept moving the goal posts? If so, were they clueless or doing it in purpose?
Lovefraud first published this story on July 1, 2013.