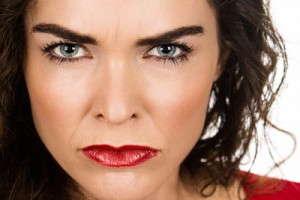 By Joanie Bentz, B.S., M.Ed., CCBP, BC
If the narcissist comes to you and says, "We need to talk," what exactly does this mean? Why does the narcissist want to talk to you and about what? And since when does the narcissist ever have the desire to resolve a problem or conflict with you?
There are specific ways of communicating that seem to be "cookie cutter" for narcissists. They always communicate with a goal in mind: to get what they want regardless of the cost.
I believe narcissists are completely predictable, but one must see the signs from the beginning and study how they establish relationships with others and how the dynamics of these relationships play out over time.
Examining a narcissist's conversation
One way to study them is through their conversations, and how the conversation is initiated. Frequently, narcissists don't like face-to-face interactions that involve apologies on their part or an admission of some flaw or weakness. Sometimes they hide behind text and email.
If they are asking to speak to you personally, privately and without delay, you should have your radar on immediately.
Let's look at some statements narcissists may make to engage in a "discussion" with you, and the meaning behind the words.
The real meaning of "we need to talk"
We need to talk, just me and you.
Real meaning: Only you and I can talk because I don't want anyone else figuring out that I am abusive toward you, because then you may have a chance of walking away. I also want to control the conversation and cannot do that if someone who supports you is present. By getting you alone, I can maintain the balance of power and erode your self-confidence.
We need to talk, and it needs to be me and your (friend, cousin, sister, mom, whomever).
Real meaning: I need to talk to you with these other people present because they are my flying monkeys and tolerate my abusive behavior toward you. Then you will look like you need help and my false accusations against you will seem valid. They may also join in abusing you, but most likely covertly so it seems that everyone is "concerned."
I know it's been a long time since we talked, but we must. I can call tomorrow.
Real meaning: I really don't care about you at all, which is why you have not heard from me in a very long time. But I need to know– and so do the other associated narcissists—if you are more successful than us in life– and if you are not, we also want to know because it makes us feel better about ourselves. We also like to talk about you when you are not around and need information to do that.
Read more: How to implement No Contact
I need to talk to you about one of your friends.
Real meaning: (This one is tricky). That friend you hang out with has been in trouble. You need to sever that relationship. But I am secretly pleased that I discovered this information, because now I am the malignant hero, and everyone will thank me for helping you out since your head is so scrambled from being a doormat all the time. (This micromanipulation plays on your need for advice or guidance. The narcissist may be right and has spared you further problems with this person, but the perceived compassionate act was only self-serving in nature.)
We need to talk. "So and So" just passed away.
Real meaning: I want to show you how much I love to capitalize on death, because it gives me supply. Why? It means that I get to see my flying monkeys at a funeral, have a free meal and drink what I want. I also love the drama surrounding death. I need to make sure that you are there so you can see me "grieving."
We need to talk. I just need some moral support.
Real meaning: Never mind that I never call you just to say hi, that I miss you, care about you or would like to have a meaningful connection. But I have some issues and I must sort them out– and I know you are more than willing to offer suggestions. Just so you know, afterward, I probably won't entertain your suggestions and I will tell everyone that you think you're a know-it-all.
We need to talk, I bought you something and want to give it to you as soon as possible!
Real meaning: I don't give gifts without wanting something in return. I want to discuss with you what I want AFTER giving you this gift. Then you will be more likely to do my bidding without question.
We need to talk because I feel like you're making a bad decision.
Real meaning: The decision does not include me, my needs or the narcissistic family cult's narrative.  Therefore, you are doing something completely wrong and not aligned with the proposed agenda. It would be counterproductive to branch out and take risks because you could be quite successful and find that pot of gold far away from me/us. It is important that you doubt who you are and your destiny.
We need to talk. You never responded to the invitation to my *insert event here.*
Real meaning: I want to tell you how ignorant and rude you are for not immediately jumping at the chance to attend my *insert event here.* Everyone else is so pumped up for this, but you are not. You should be– because it is a privilege that you were invited to my exclusive event. I know you don't want to come because it's not your style. But I will scold you and give you a piece of my mind about basic courtesy.
We need to talk. I have an apology to make.
Real meaning: Yes, I know you caught me in something I was not supposed to be doing, but I am not sorry I did this. The truth is, I am sorry I was caught. Now I must come up with a whole new plan that will allow me to obtain supply without considering who will get damaged in the process.
Do you need to talk to the narcissist?
It is important to ask yourself—do you need to respond to the narcissist? Or can you safely ignore the "we need to talk" statement and minimize contact?
Learn more: Tools for navigating narcissists and other manipulative people
In keeping a low profile with a narcissist, it is best to remember that they speak to you from a place of insecurity. Their abusive conversational tactics are just smoke and mirrors for a shattered core self that you cannot repair.
To protect your own psyche, the best way to handle "we need to talk" is to not talk at all. Save your sanity and maintain your privacy. If you must talk, limit personal information and emotions, because narcissists will only use them for ammunition in some future attempted ambush.