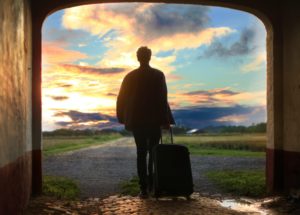 Editor's note: Liberty Forrest, author of several self-help books and a certified Law of Attraction Life Coach, explains why love does not conquer all — especially if the person you love is a sociopath. Read more about Liberty.
By Liberty Forrest
Love does not conquer all. That's the truth. The story of Romeo and Juliet pretty much sums it up. Sure, it was fiction. But it was a case of art imitating life — if not literally (which is, unfortunately, sometimes the case), certainly figuratively.
What we'll do in the name of love…really, it's quite shocking at times. I don't know what happens to our brains when we love someone but the image of putting a plastic bag on a hot frying pan springs to mind.
I don't care how much you love someone. If that relationship is toxic, if it's destructive in any way at all, then you're shooting yourself in the foot and you're missing the point of love entirely. It is meant to help us to grow, to thrive, to be nurtured, and to feel special, respected and valued.
Video: Sociopaths cannot love, they just want to win
It is not about criticism, hurtful actions, selfishness or jealousy. It is not about destroying, devaluing, diminishing. And it is certainly not about abuse.
But if you've been in a relationship with a sociopath, you've probably been trained to think otherwise. And you've stayed in the relationship believing that's what love looks like.
So…What If You Love the Sociopath?
You can love a sociopath all you want. But does that mean that you should stay with one? Absolutely not. If you do, you're figuratively thrusting Juliet's dagger into your own chest over the poison that floods your partner's thoughts, words and actions.
This is all really quite simple. At least, it is in theory. Love should be about respect, trust, kindness and nurturing. If it is not, it isn't love. If it is about selfishness, manipulation and possessiveness, it isn't love.
And a massively important point: There might be good times, moments of kindness or nurturing etc. But none of that matters if there is also toxic behaviour. I don't care how wonderful your partner might be able to be "sometimes." I don't care if the kindly Dr Jekyll is absolutely wonderful and loving. As long as Mr/Ms Hyde shows up at times, it is a toxic relationship.
I know what it's like to feel like your partner is "mostly really nice but just gets like THIS now and then." We tend to see the "THIS" as something separate, like it isn't really a part of that person. But it is. That person is both Jekyll AND Hyde. You can't have one without the other. And Hyde will destroy you, given enough time to do it. Love does not conquer all.
Well, lots of people have crazy, unhealthy relationships and maintain that they love someone who exhibits rather unhealthy behaviours, either directed at themselves or other people. What about those? I mean, no one's all bad, right? Doesn't everyone have some redeeming qualities?
Of course they do. I agree wholeheartedly. And I've known plenty of people like that. But do I need to have that negative and destructive rubbish in my life?
Ummm, nah. I don't think so. Been there, done that, and I'm never, ever going there again. No way, no how.
Love vs. Need
There's a big difference between "I need you because I love you" and "I love you because I need you."
I don't have any trouble understanding the powerful bonding and connection that sometimes happens between people, leaving them feeling attracted to one another, and thinking about each other when they're not together. And as long as no one is being hurt, that's all good. That's "I need you because I love you," and that's as it should be. The love comes first, and it is based on a foundation of friendship, trust, and respect.
But I do have trouble when it comes to people who complain that they feel unloved, disrespected, miserable and/or unhappy in a relationship that they refuse to end. Well, then, I guess that's their choice. If they're not gonna dump the partner who is being a disrespectful moron, they can't very well expect sympathy after a while when consistently, they're treated badly.
Those relationships are built on "I love you because I need you." When there is attraction, bonding, attachment and need before building a foundation of trust, kindness and respect — this is definitely NOT the way it should be.
So you love that person. Too bad. That doesn't mean you should keep going back for more misery.
It's painful as hell when you still love someone who is destroying you a little piece at a time, but tying yourself up in knots and trying to continue being with someone like that makes you just as bad because when you allow that behaviour, you're destroying yourself.
Can Toxic Relationships Be Fixed?
When a relationship has such a toxic foundation, and only one of you is interested in trying to fix it, you're wasting precious time and energy.
It's like this: If you're making a cake and you start with fresh butter, flour, milk and sugar, and you add rotten eggs, no matter how fresh the other ingredients are, that cake is going to be "off."
In my work as a counsellor and later as a homeopath, over the years I've spoken to an awful lot of people in situations like this. And I've experienced relationships like this, too, so I understand how it feels to love someone who is just not good for you.
I understand how hard it is to say "I love you but goodbye." I understand having to say, "I can't live with you but I don't know how I'm going to live without you." And then figuring out how to do it because you must, whether you like it or not, whether it's hard or not, whether you think it's impossible or not.
Just because you love someone, it doesn't mean you have to have a relationship with that person. It doesn't mean you have to keep trying to make it work when you're consistently being hurt and disrespected, or when you're fed up with living on a dysfunctional, unhealthy merry-go-round.
Learn more: Love fraud, abusive dating and sociopaths — vital information for educators, school professionals and parents
It just means that you love that person and that's it, full stop. Once you get your head around that, it is easier to let go, to stop trying to fix the unfixable. Love does not conquer all. You ain't never gonna get those rotten eggs outta that batter because you're not responsible for someone else's choices, much less that person's desire for self-destruction. Or worse, the desire to destroy you.
A version of this article was originally published at LibertyForrest.com. Reprinted with permission from the author.