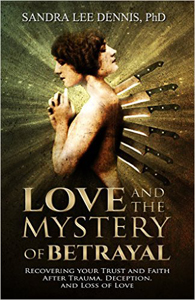 BOOK REVIEW: Love and the mystery of betrayal, by Sandra Lee Dennis, Ph.D.
This post refers to spiritual concepts. Please see Lovefraud's statement on Spiritual Recovery.
If you're like most Lovefraud readers, you may find it difficult to put into words the depth of the pain romantic betrayal causes. Discovering that your romantic partner, the person who claimed to be your soul mate, proclaimed unending love and promised a future of golden togetherness, was lying all along and totally deceived you, causes indescribable agony.
Sandra Lee Dennis, Ph.D., has put your suffering into words.
I recently read her book, Love and the Mystery of Betrayal Recovering your trust and faith after trauma, deception and loss of love. It is the best description I've ever read of the emotional, spiritual and even physical pain of romantic betrayal.
Author's story
Sandra and the man she calls "Rob" in the book were engaged to be married. She has a doctorate in psychology and religion, and considered their relationship to be "enlightened" they consistently "checked in" with each other about their feelings, and attended counseling together regularly.
Sandra wanted a small, intimate wedding, but Rob wanted a big wedding with all their friends and family. Sandra reluctantly agreed.
Then, six weeks before the big day, Rob, with no warning whatsoever, left her. Sandra writes:
For a long time, I could not figure out why, against my best efforts, images of Rob's departure scene unnerved me day and night. I kept hearing his voice saturated with contempt, "I am dissatisfied with you," "¦ "I want a divorce," "¦ "bad for my health," "¦ "colossal mistake." I kept seeing his arms stretched along the back of the sofa. I kept wincing at the memory of the slight smile on his face as he nonchalantly delivered the blow. Each replay threw my system into turmoil, like a nightmare that dogged me everywhere I went. It was as if I had been struck down with a debilitating disease of unknown origin the voices in my head, the constant anxiety, the ache in my chest, the dizziness and disorientation. No matter what I did, and I tried many things, I could not stop this horror story from playing over and over in my mind. Later, I found out how the neurophysiology of shock contributes to these intrusive replays, but for the longest time I asked myself, "Why can't I shake this?"
The unintended book
Sandra didn't intend to write a book about her experience.
"I write when I'm distressed," she said when I interviewed her. "When I first started writing, it was like a goddess speaking through me. I was in an altered state like automatic writing. It was pouring out of me for the first year.
"Then I went on a trip, and decided to read what I had written. This was 200 pages," she continued. "I'm learning so much I feel responsible to pass it on to other people."
The resulting book not only captures what so many Lovefraud readers have experienced, but offers what some may find to be new and healing ways to interpret the experience of betrayal.
Haywire
Along with describing her experience, Sandra offers psychological and biological explanations for her reactions. She points out, for example, that the need for attachment ties to other human beings is hardwired into our brains. Thousands of years ago, social ties were crucial for the survival of the species, and they still are.
That's why our brains go haywire with the loss of a romantic partner we feel like our very survival is in doubt.
But Sandra then moves on to explain that intimate relationships create discernible connections in the energy fields of two people, sometimes called the "subtle bodies." Modern society and science may disregard these energetic connections, but energy healers and indigenous traditions recognize their existence.
Shamans, Sandra says, refer to harmful intimate ties as cords. She writes:
Cords are described as dense ropes of subtle materiality formed by fear-based relational attachments. Energetic projections run back and forth through these cords between people, often draining the energy of one at the expense of the other.
Spiritual healing
The trauma of betrayal is so great, Sandra says, that true recovery requires spiritual healing.
"I had rejected Christianity decades ago," Sandra said when I interviewed her. "I focused on mindfulness, Buddhism, New Age approaches, psychological depth work. But it took my darkest days, my most broken moments, to find myself turning to prayer."
She found solace, to her surprise, in Christianity.
"The transformation of suffering is the heart of the Christian mystery," she said. "Life flowers and grows out of the torture of experience."
In her book, she describes an afternoon when she was struggling with despair, and a small miracle happened.
A warm aliveness began to seep through the sensations of hollowness and desolation. A palpable presence moved inside my body, like thousands of tiny kisses. Starting precisely at the painful center of the now familiar ache behind my heart, a sweet substance began to fill me. Tenderly, "someone" whispered my name and enfolded me in warm, caring arms. And I was relieved, for the moment, of my bereft self. As I let myself fall into this sudden, light fullness, I began to feel the delicate fabric of my connection with the life all around me, and it breathed hope into my soul.

I still do not know from where the love came that penetrated through my despair. I could only call it grace.
This book is full of explanations and revelations that may help you work through your experience. I could keep quoting passages, but then I'd be reproducing the entire book.
In the end, Sandra suggests that romantic betrayal, as harsh as it is, may serve an important purpose. It may be a catalyst for the collapse of the false self, and an invitation to grow closer to source, love or God however you conceive of your higher power.
Love and the Mystery of Betrayal may help you understand your reaction to an intimate betrayal, and find deep, transformative meaning in the experience.
Love and the Mystery of Betrayal is available on Amazon.com.