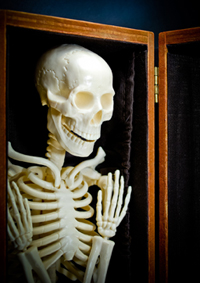 "How can someone who claims to love me be so cruel?"
"Do you mean he (she) never loved me? It was all a lie?"
"I never knew people like this existed!"
When you first begin to realize that you've been involved with a sociopath, you may feel unhinged, like you've lost your bearings in the world and you're drifting.
You've had your heart broken before, but no previous relationship compared to this. Even if you've managed to get away from this toxic person, you feel lost. Your well-meaning friends and family are urging you to get over it, to put it behind you, but you can't.
Why? Why is it so difficult to overcome the sociopathic experience?
I believe it's because nobody talks about the fact that sociopaths live among us. It's a giant, malevolent skeleton in humanity's closet.
Society's myths
All our lives, society bombards us with messages such as "everybody is basically the same," "all men are created equal," "we all just want to be loved," and "there's good in everyone."
We strive to follow the Golden Rule — "Treat others the way you want to be treated" — believing that if we're good to people, they'll be good to us in return.
As much as we would like these ideas to be universal, they are not. But no cultural institutions, such as schools, churches, or even women's magazines, tells us that there are exceptions to all these truisms.
No one tells us that criminals and terrorists aren't the only bad people in the world. No one tells us that our neighbors, co-workers, or fellow church members, who look just like us, may, in fact, be human predators.
So when we run into these human predators, we are totally unprepared.
The big contradiction
We don't know about sociopaths — people who live their lives by exploiting others. Professionally, they may be diagnosed as antisocial, narcissistic, borderline, histrionic or psychopathic. The official estimates for the number of people who have these personality disorders average about 12% of the population.
For this segment of the population, all those feel-good messages we get from society simply don't apply. These people are not the same as us. They do not just want to be loved. Deep down, there is no good inside.
World view
We all have a certain Weltanschauung, a word borrowed from German that means "world view." We have ideas and beliefs about how the world works, the nature of things, and the nature of people.
After a lifetime of absorbing cultural messages such as "everyone deserves a chance" and "love can change everything," these are the lenses through which we view the world. They are also the lenses through which we approach our relationships.
Then we experience betrayal by the sociopath.
Here's why this betrayal is so devastating: It shatters our world view. It contradicts everything we thought we knew and understood about the world and the people in it.
We learn, much to our horror, that our world view is not accurate. There is a certain percentage of the population the sociopaths for whom everything we thought we knew about humanity simply does not apply.
This is why we feel unhinged. Not only our heart is broken — our understanding of life is broken.
Wisdom
Along with emotional healing, therefore, recovery requires that we change our most fundamental beliefs.
Yes, for 88% of the population, everything we always thought remains true. But for the remaining 12%, we need to accept a new reality.
Sociopaths are totally different from the rest of us. They have no ability to love. They are motivated only by power and control.
But now we know. We've know that although the majority of people are good and loving, some are not.
Having learned this lesson the hard way we can now approach the rest of our lives with the wisdom of a survivor.