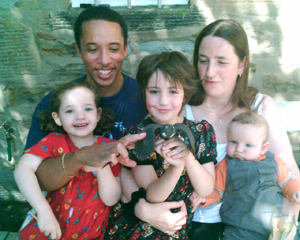 Will Jordan had a routine. He went online to meet single mothers. He seduced them with flowery emails. He told them he had no children, but really wanted a child. He got the woman pregnant all while draining her assets.
Childless Will Jordan actually had 13 children with eight different women. He didn't support the children. And the women lost hundreds of thousands of dollars.
One of his targets, Mary Turner Thomson of Scotland, wrote a book about her experience. She had two children with Jordan, all the while believing that he was a CIA agent, as he told her. But at the same time, Jordan was married to a British woman, with whom he had five children. When the women found out about each other, Jordan convinced both of them that the other relationship was merely a cover story for his job.
Tomorrow, on July 24, 2014, Mary Turner Thomson tells her story on the Investigation Discovery channel. The show is called Handsome Devils, and it airs at 9 pm Eastern time, 8 pm Central.
Donna Andersen also appears in the show, commenting on the case.
The show was already in post-production when Jordan's latest victim, Mischele Lewis, discovered his true identity. She participated in the show via a Skype interview.
The Spy Who Conned Me, on Handsome Devils, Investigation Discovery, 9 pm ET, 8 pm CT.