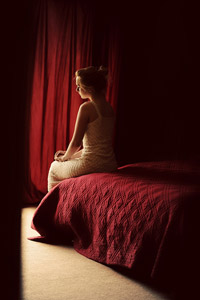 Lovefraud received the following observation from a reader who posts as "new_day":
I just had an A-ha moment while scrolling through Facebook. I read a post that said, "Words may lie but actions always tell the truth." The problem with understanding how sociopathic behavior is so damaging to others, is that we have to realize even Actions can Lie!!

Those who are hollow of any truth or love are masters of acting! They can entertain us into thinking they are the good and loving soul mate that we were blessed to meet. In reality, it was all love fraud.

Somehow, I am expected to move forward with the inability to trust another person's actions again.
This is a very astute observation. Anyone who has tangled with a sociopath knows that they lie. They tell big lies, small lies, outrageous lies and stupid lies. Sociopaths lie while looking deep into your eyes and clasping your hand in theirs, promising that they will never lie to you.
Unfortunately, humans are lousy lie detectors, especially in the beginning of a romantic involvement, as the liar is showering you with affection. When the sweet words include, "I'll love you forever," and "You're the one I've been waiting for all my life," well, who doesn't want to believe them?
Words and actions
The standard advice regarding sociopaths is to ignore their words and pay attention to their actions. But as this reader, new_day, points out, sometimes you can't pay attention to their actions either.
The actions of a sociopath may lie as well. They may take you out for a romantic dinner, play with your kids, help you take care of your house, buy flowers for your mother.
Usually, when someone engages in behaviors like these it's because they want to show that they care about you. When sociopaths take what seems to be caring, thoughtful actions, they have an agenda. They are behaving in a socially appropriate way because they are reeling you in for future exploitation, or creating an image that will benefit them in other exploitation projects.
Of course, you know this now, most likely after learning the hard way. So what does all this mean for your recovery? How do you move forward in life, and build new relationships, when you feel like you can't trust people's words and you can't trust people's actions.
You learn to trust yourself.
And how do you do that? By focusing on your own healing.
Trusting your internal signals
If you're like most people who became involved with sociopaths, you knew in your gut, from early in the involvement, that something was wrong. The story didn't add up; you had a bad feeling; you sensed something was amiss. But you didn't listen to yourself.
The biggest reason why you didn't trust your instincts was probably because you didn't know that sociopaths existed. You didn't know that people live among us who look just like us, but have no heart, no conscience and no remorse.
Now you know. You have the empirical knowledge to make sense of those internal warnings, if you ever feel them again.
But when you have a general mistrust of everyone, how do you differentiate between legitimate internal warnings and imagined internal warnings ?
Value in healing
That's where the healing comes in. With healing, you become comfortable with the concept that while most people are basically good, a certain segment of the population is not.
With healing, you learn to value yourself. You come to understand that you're the one who knows what is best for you. You feel comfortable walking away from anyone or anything that doesn't feel right, without waiting for objective proof that the situation is bad.
Now, even a good, solid recovery may not totally prevent sociopaths from coming into your life. There are simply too many of them among us, they're everywhere, and they're very, very good at their acts. So they may fool you for awhile.
But with recovery, they won't fool you for long. And when your instincts start emitting warnings, you'll know what they mean.
Here's how I define success in spotting sociopaths: It's not keeping them out of your life entirely. It's getting them out of your life before they do serious damage.
When you learn to trust yourself, you can achieve that success.