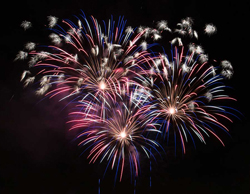 In honor of July 4th, let's talk about fireworks — the really dangerous kind. These are the fireworks that you feel exploding all around you early in your relationship with someone who later turns out to be a sociopath. Here's what you see and experience, and what it really going on.
1.
You see: Nonstop texts, emails and social media postings
Reality: You're not the only one receiving them. The Internet and social media make it easy for sociopaths to work multiple targets at once, and they do.
2.
You experience: Conversations that last for hours
Reality: The sociopath is pumping you for information, which he/she will later use to manipulate you.
3.
You experience: Nonstop dates, get-togethers — the sociopath alway wants to be with you
Reality: The sociopath knows you're hooked, and he/she is reeling you in.
4.
You receive: Cute little gifts, or even expensive gifts
Reality: There's a good chance they're either recycled or stolen from another partner.
5.
You experience: Wild, passionate, "rock your world" sex
Reality: Sociopaths (both male and female) have excess testosterone, engage frequently and get bored easily. You are, and always will be, one of many partners.
6.
You hear: "I love you," and your heart soars
Reality: It's a lie, because sociopaths cannot love. But they know if they say, "I love you," they get what they want.
7.
You see: Moist eyes, or even tears rolling down the cheek
Reality: Crying by sociopaths isn't a sign of pain or sadness. It's an act designed to make you feel sorry for them — and give them what they want.
8.
You get: Multiple phone calls a day, just to say "hello"
Reality: The sociopath is checking up on you, and slowly establishing control over you.
9.
You hear: "We're soul mates!" and you feel like you've found the one you've been waiting for all your life.
Reality: This isn't a deep truth springing forth from the sociopath. It's a tactic that he/she knows works, because it's been used before.
10.
You hear: Promises of "happily ever after"
Reality: Sociopaths set their hooks deep within you by promising to make your dreams come true. In the end, it's entrapment.