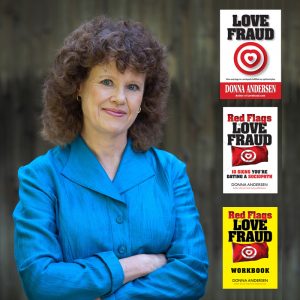 Good has come out of my disastrous marriage to a sociopath. With all I've learned about sociopaths, I now have the expertise to help you understand the insanity that you're dealing with. It's a gift, and I truly enjoy sharing it.
The sharing season is approaching. So from now through Nov. 21, if you schedule a 1-hour personal consultation, I'll give you my three Lovefraud books for free.
Love Fraud — How marriage to a sociopath fulfilled my spiritual plan tells my personal story. It reads like a cross between a true crime novel and a spiritual journey.