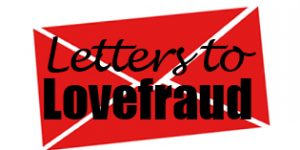 Editor's note: Lovefraud received the following email from a reader whom we'll call "Kristinan32." Donna Andersen responds at the end of it.
I've had a long history with NPDs and Sociopaths. Am I some sort of magnet?
I am a caring individual, rescue animals, take care of people. Go figure. My daughter's father was one, the last guy I was with was one, up until he died.
Two years later, I decided I've 'healed' somewhat after everything, and I see my old friend's brother on a social media site. I never really knew him, so I contacted him, out of the blue. So, we hit it off fast. This is unlike me, I don't take things fast. We talk, we get along, everything's fun and good.
He tells me he has mental problems and is a Sociopath, etc. Yes, etc. He's had a long life full of hardships, family wise, etc. I see the good in him. Of course I do, that's who I am. No, I'm not perfect.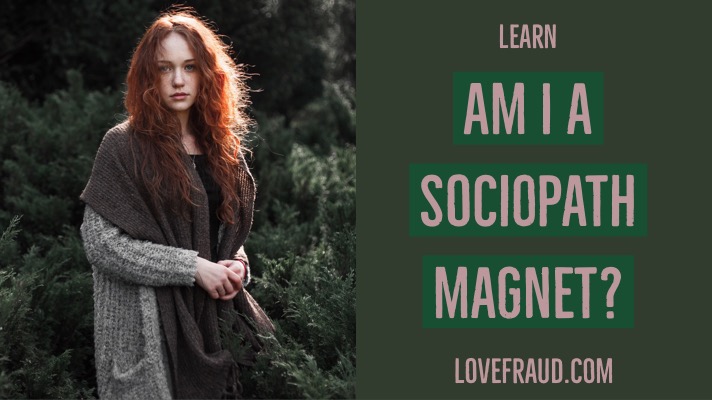 Anyway, he says he's never felt love like this before, I'm the most beautiful woman he's known or seen. He is sweet, caring, things he's usually not, he says. Gives me his things, mementos, etc. Buys me a ring, wants to marry me. He's never been married. Me either.
His friends are shocked because of this change in him. He wants to change his whole world for me. For himself.
He seems to project some of his mental illness on me, that I'm crazy because I'm dating him, and we're both nuts. I may be different, but I was never diagnosed with any of these disorders, other than having depression. I hate that I'm even writing all of this, but feel the craziness of the situation coming on, and feel compelled.
He's up and down. He (I think) is now fired from his job, because he can't function right. His past isn't full of consistency, and also has a criminal record.
As I write this, I know what the answer is. No contact.
I just feel so guilty because he needs someone (maybe) and I do care about him and do love him. He has, though, said a few things to me that I have tried to ignore, and of course they nag at me now. Red flags. Big ones.
I just want to vent. I'm sad once again, that honestly I didn't even know this man had these issues, yet I picked him out like a needle in a haystack. For God's sake, I did.
I'm so mad at myself for trying to heal, and then now I'm back in an even shittier situation. No contact? Hurt the poor guy more? Ya, he's probably not a 'poor guy,' but to me he is.
Donna Andersen responds
Kristinan32, I can certainly understand why you feel confused and angry. You are a good person. You rescue animals and take care of people. So why do you keep finding yourself involved with sociopaths?
I believe the answer is in the first sentence of your letter: "I've had a long history with NPDs and Sociopaths."
Every time sociopaths crash into your life, they inflict some level of harm. It could be financial, emotional, psychological, sexual, social, or other types of damage. Whatever they do, it causes you to feel negative emotions, such as anger, resentment, betrayal, pain, hatred, disappointment, disillusionment or grief.
The problem is, in our culture we are not taught how to deal with these unpleasant emotions. Instead, we are encouraged to disregard the pain that we feel and simply push on.
The pain, therefore, remains within us and festers, creating a disturbance in our inner core. And this disturbance does, indeed, become a sociopath magnet. Sociopaths sense your vulnerability, and then target you for whatever it is they want to get from you.
Neutralize the magnet
So what do you do? You need to neutralize the sociopath magnet. How? By letting your negative emotions rise to your conscious awareness so you can release them.
There are several ways to do this. One is to allow yourself to feel the pain. You cry, wail, or rage until you get it out of your system. You'll usually want to do this privately, or with the help of a competent therapist. Certainly don't do it in the presence of the sociopath — that will be counterproductive.
As you do this, you may discover that some of the pain you experienced with the sociopath is directly connected to a memory deep within you — perhaps even something that happened when you were a child. If this happens, know that you've hit pay dirt — the true root of the disturbance.
This process isn't pretty and it will take time. But by clearing all the old disturbances from your core, you will disable the sociopathic magnet. Instead, you'll find reasonably healthy people coming into your life.
You could also employ mindfulness — like meditation and yoga — or EFT tapping. Or you can use all of the strategies.
For example, meditation may allow you to access painful memories, so you can feel the emotions and process them. If it make you cry, that's fine. Then afterwards, you can restore your equilibrium with more meditation.
Danger signs
Along with healing your emotions, you want to educate yourself. In your letter, you mentioned several behaviors that are classic Red Flags of Love Fraud:
He tells you his long life full of hardships — this is the pity play.
He says you're the most beautiful women he's known or seen — this is love bombing.
He starts talking about marriage — he is moving fast to hook up.
He's up and down — this could be the Jekyll and Hyde personality.
Also, this guy actually told you that he's a sociopath. You need to know what that means. Judging by the behavior you described, he was telling you the truth. I strongly recommend that you get my book, Red Flags of Love Fraud — 10 signs you're dating a sociopath. It will help you to understand the significance of the warning signs.
No contact
You are right that the answer is No Contact. The purpose of No Contact is to give you space so that you can go through the healing process. You need to recover from the upset that this man has caused — and the pain from the long line of disordered people in your life. We have lots of information here on Lovefraud that can help you.
Make a commitment to your emotional healing. When you go through the process, and release all the pent-up disturbances, you can turn your life around.