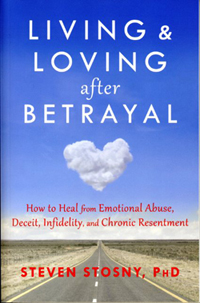 I've been looking for a book to help you heal from the devastating betrayal of a sociopath. I finally found it.
Living and Loving After Betrayal How to Heal from Emotional Abuse, Deceit, Infidelity, and Chronic Resentment, by Steven Stosny, Ph.D., is the best explanation I've ever read of how betrayal affects you emotionally and psychologically, and how to recover from it. In fact, I am so impressed with this book that we are now carrying it in the Lovefraud bookstore.
Why it hurts
Stosny starts the book by explaining why intimate betrayal hurts so much.
Love bonds developed because they were crucial to the survival of the human race. Back in caveman days, we needed to look out for and take care of each other. If we were alone, the chance that we'd be killed by marauders or saber-toothed tigers escalated dramatically.
So what happens now? "The reactions to intimate betrayal often include a vague feeling that you might die," Stosny says.
Stosny then explains how you react to betrayal with anger. This produces a surge of energy and numbs the pain, like amphetamines. But soon you crash, and feel worse than before. So you get angry again to relieve the pain. And you crash again. This cycle turns into defensiveness and emotional reactivity.
Emotional reactivity
Stosny defines emotional reactivity as "an automatic, usually unconscious, gut-level response to negatively perceived events, situations or people."
When anything reminds you of the betrayal, even something as innocuous as "your" song playing on the radio, you are flooded with intense negative emotions. Unfortunately, emotional reactivity can generalize, and soon, any love song playing on the radio causes a reaction. It can continue to generalize, so that eventually you can't stand listening to the radio at all.
Eventually, these negative emotions become a habit which Stosny defines as an inflexible sequence of neural firings in the brain. Unfortunately, he says, this habit makes it more difficult for you to recover.
"The best way to overcome emotional reactivity is to make a determination to act on your values more than your feelings," Stosny says.
That's what the rest of the book is about. It is a step-by-step, how-to guide for recovery that focuses on changing your brain patterns so that you can move past the horrific experience.
What you'll learn
The book includes many exercises that you can do on your own all you need is a paper and pencil. You'll learn how to:
Follow the hidden messages of pain to promote emotional wellbeing.
Identify with your own resilience, strengths and desire to improve.
Facilitate real emotional healing by helping the brain replace painful memories with restorative images.
Defuse chronic resentment through self-compassion.
Discover your deeper values and how to access them under stress.
Use compassion as a path to self-protection and trusting wisely.
Discover the person you most want to be, according to your deeper values, and make your behavior consistent with these values.
Use emotional reconditioning to change learned habits.
Look for the traits of a loving, compassionate partner.
Love freely and safely.
Highly recommended
Stosny's approach to healing is based on reconditioning your brain. He addresses post-traumatic stress, and how to recover from it. He explains how to regulate anxiety. All in all, I thought his advice was excellent.
At the end of the book, Stosny talks about forgiveness, and his views agree with mine.
He points out that forgiveness does not mean excusing bad behavior, and it does not relieve the offender of accountability. One of the primary functions of forgiveness, he says, is relationship detachment.
"The secret of forgiveness," Stosny says, "is to focus not on the offensive behavior, but on freeing yourself of the emotional pain you experienced as a result of the behavior."
The objective of Living and Loving After Betrayal, Stosny says, is to help you to grow larger than your hurt.
Besides reading the book, I interviewed Steven Stosny. I'll be writing about our conversation in future articles.
Living and Loving After Betrayal How to Heal from Emotional Abuse, Deceit, Infidelity, and Chronic Resentment is available in the Lovefraud Bookstore.