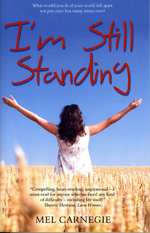 If you've been reading Lovefraud for awhile, you've probably been inspired by the many encouraging articles contributed by Mel Carnegie, a British woman now living in France who experienced her own devastating marriage to a sociopath. Now, you can read her complete story in her new book, I'm Still Standing, and be even more inspired.
Mel has told us snippets of her story: how she lost her father, and then her mother, while she was young. How she was abandoned by her guardians. How she had a son, although the relationship didn't last. And then how she met the man who she thought was the love of her life, only to be totally betrayed.
In I'm Still Standing, Mel takes us along on her journey, describing in detail the joys, which were interrupted by sorrows, which were then overcome as triumphs. By reading this book, we can take heart: If Mel Carnegie was able to pick herself up after each terrible devastation, we can too.
Seduction — twice
Lovefraud readers who were romantically involved with sociopaths will recognize the fairy-tale beginning of Mel's involvement with a man who she calls "Cam," short for Campbell. It was incredibly romantic, with so much over-the-top love bombing. Mel was swept off her feet.
Readers will also recognize the shift as Cam switched from devoted partner to self-centered parasite. Mel, of course, did not understand what was happening. Where was the man that she married? Had she done something wrong? Why was he so distant? The answer came when she discovered his infidelity.
Mel was furious, outraged and heartbroken. She took steps to end the relationship. Then Cam did what sociopaths do when they are losing their narcissistic supply. He apologized, pleaded, cried and begged for another chance.
Slowly, Cam seduced Mel again. Wanting to believe that her marriage could go back to the wonderful romance it was, she took him back. And life was good—until she discovered an even more shocking betrayal.
Validation and inspiration
I'm Still Standing offers validation to anyone who was romantically involved with a sociopath. You will recognize yourself in Mel's story. You will realize that yes, sociopaths are that good. Yes, their objective is exploitation. And no, there is nothing wrong with you. You reacted as anyone who was love bombed and then heartlessly betrayed would react.
At the end of the book, Mel describes how she picked up the pieces and built a new life, one that is better than all the prior years. The message of the story is that we can overcome. When we believe in ourselves and working towards our goals, we can indeed find happiness, satisfaction and peace, no matter what tragedies life throws at us.
Buy I'm Still Standing on Amazon.com.
Listen to Mel Carnegie interviewed on Magic Radio.