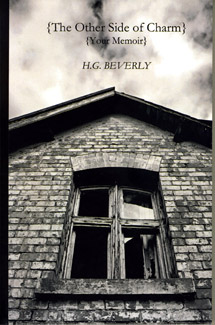 In her new book, The Other Side of Charm Your Memoir, author H. G. Beverly gives voice to the emotional experience of being married to, or more appropriately, ambushed by, a psychopath. She captures the shock, outrage, disbelief and confusion better than any book I've ever read.
The basic story is that Helen Beverly knew the man, whom she calls Wyatt, for almost her entire life. They both grew up in farm country, and she married him when she was 24. After the wedding he immediately embarked on a subtle campaign to subjugate her. The first step was to convince her to drop out of veterinary school. After all, they agreed that they wanted a family, and they agreed that she should stay home with the kids, and he made enough money, so why did she need veterinary school? Right?
Children came along, and Wyatt was happy to play father of the year, as long as he had an audience. When no one was around to admire him doting on the kids, he could care less about them. In fact, he was emotionally and psychologically abusive towards them, and also towards Helen. Plus he slammed her up against the wall.
As the years went on, Wyatt pulled all the standard psychopath tricks spending thousands of dollars stuff he didn't need and never used. Cheating with other women and blatantly denying that it happened. Isolating Helen from her entire support system.
After nine years, Helen finally had enough and filed for divorce. That's when World War III broke out.
Helen had thought that her husband would agree to divide the property amicably. She thought he would want to keep life stable for the kids. She thought they could cooperate in parenting. She was wrong.
Like many of us who have been married to psychopaths, Helen was totally blindsided by the steps Wyatt took to destroy her. And she was further blindsided by the actions of court professionals, who not only did not protect her and the children, but actively participated in driving her to ruin.
Stream of consciousness
Many, many Lovefraud readers will relate to the story, because they, too, have lived it. But what is truly astounding about this book is its emotional grip. H.G. Beverly grabs your heart in the very beginning and never lets go. She does this through the unique stream-of-consciousness style that she uses to write the story. I've never seen anything like it, and it's very effective.
For example, we all know about being mesmerized by the psychopath. But calling the experience "mesmerized" just doesn't do it justice we are swept up, lifted out of our existence and wrapped in a daze that doesn't clear until long after the relationship has shattered.
Here's how H.G. Beverly starts her book:
You will fall in love. Your love will come to you from the southeast in some kind of subtle-sparkle-smoke fog coming in through the cracks around your door sweeping across the room to you there where you'll be reading on your sofa he'll be reaching his hands down around your waist filling your eyes with his glow so intense that you will not keep yourself from looking over and away. Lids half closed to shield your eyes. Your love will not be able to stay away will come to you in the morning and in the afternoon and in the evening and in the middle of the night your love will wake you from a dream with strong coffee will relax your rigid bones with a glass of wine will make you wonder why you've been working so hard all this time you'll watch him coming toward you and his smoke will serenade your heart so this is passion. Your love will take you on a night walk stroll behind you pushed up against you stride for stride and the rhythm will tell him you're a perfect fit look at us walking. We're a perfect fit. He will be fascinated. With your plans and dreams they're so much in line with mine if only he hadn't been traveling through the south these last years you could've been building a life together ever since college or high school or maybe even junior high your fit is just marvelous your feet will sweep across the earth like matchsticks lighting a fire. Every step another spark. Will fly to the sky I can't believe I didn't see this in you before should've known when I first saw you as a child but I've never known love like this in my life let's spend every moment making up for lost time. Let's start with a dance. Yes, right here. Right now. You'll swing around the living room you'll swing across your lawn you'll spin sideways down the sidewalk you'll follow his lead with your eyes you'll talk freely about the future so this is love. Your love will teach you all about love you will say I didn't know it could be like this your last relationship will have been with someone more regular no smoke that last one will have cooked chili too late and his nose will have run and dripped while he stirred and you'll have watched him wipe it with the side of his hand while cutting hot peppers but no smoke. You won't have known what it could be what might happen in your heart when the sparks start flying to the sky when the light show creates a fog and you won't have known what love could feel like to be lost what the smoke might do to your heart all engulfed in that glittering, hazy mist no time to come up for air you won't even bother trying. You won't have known what it could be until it finds its way in through the cracks and then you'll know that nothing was like this before so this is the one there's no way of saying no when God sends you the smoke you don't question your destiny.
Yes, I'd say that describes what falling in love with a psychopath feels like. Wouldn't you agree?
Of course, the love bombing phase disappears once Helen and Wyatt are married. Helen uses the same style to make you understand the confusion and doubt she feels as she tries to make her marriage work, even as her husband undermines her. It's exhausting, and hopeless.
Once they split, Wyatt does everything he can to pry the children away from her. H.G. Beverly writes:
No one will know what to do. No one will ever know what to do. You'll talk with your therapist friends about chronic developmental trauma and what you might do next but your history will tell you that involving professionals and specialists will only increase the risk and the trauma because your ex will either charm and smoke them over to the point where they'll align with him and come after you for ruining everyone's lives or else he'll manipulate your children's feelings about the process of therapy so that they'll accuse you of trying to turn them into a weirdo you're not taking me some place for psychos you're the one with the problem Dad said you used to try to blame him for everything and now you're blaming me just like him I'm not going to your stupid appointments if you try to come and get me I won't get in the car. You could negotiate with them or you could ignore the comments and try to make them see someone at least once or you could simply care about how they feel and let them know that you love them and respect their feelings so let's figure out some solutions together what do you think might work here and while all of these approaches might have some positive aspects in another human system none of them will ever work while their dad has any influence over any aspect of any decision. It won't matter what the decision is, really, whether it's about therapy or who likes vanilla ice cream he will work day in and day out to be sure that your children are perfectly aligned with him on every point and he will absolutely align himself as the opposite of anything you are or present yourself to be and so they'll parrot their father and despise every detail of your life. Every aspect of being a normal human being will be twisted into something negative. If you're nice you're too freaking easy on people if you're artistic you're not like other parents your stuff is so weird if you wear work clothes to a weeknight game you don't dress like a normal person why do you have to dress up in a white shirt like that for my game you're not a normal parent you don't even understand sports if you like sweet potato chips you always have to try and impress people can't even eat normal potato chips if you have a diverse group of friends you don't even know who you are. He will work and work and work until they'll look at any of your very natural human tendencies as some kind of major, deep flaws they will hear and say these things every day of the week they will come to see you as a dark force as an other as a person who is at the core of any and all suffering they've ever endured in their lives and they'll know by experience that no one will have peace until you're not around.
Contribution to the literature
H. G. Beverly writes about her ordeal in a way that makes you truly feel every heartbreak. Because psychopaths create nothing but heartbreak, the book is, at the very least, unsettling. Still, I think The Other Side of Charm is an extremely valuable contribution to the literature on involvements with psychopaths.
If you read it, I guarantee this book will validate your own experience. However, the writing is so vivid that it may trigger you. This could be a good thing, if you're working on releasing the deep-seated pain associated with the psychopath in your life. But if you're not ready to deal with the emotions, you may have to put the book down until you're stronger.
Along with vividly explaining what happens to victims of psychopaths, The Other Side of Charm is an indictment of all the professionals who either don't get it or are corrupt. It shows how clueless many therapists are, and how lawyers and court personnel can be manipulated to participate in the calculated destruction of the psychopath's target.
The best idea may be to give the book to someone who needs to understand your experience, but doesn't. All those well-meaning people who tell you, "Why don't you just give him what he wants so you can settle?" may come to understand that your adversary doesn't want to settle; he wants to push you into nothingness.
Contributing to Lovefraud
H.G. Beverly became a therapist, with the goal of helping people who have been targeted by psychopaths, although she is not practicing at this time. Still, her understanding of what happens in relationships with psychopaths comes more from her experience than from her studies.
I am pleased to announce that H. G. Beverly will soon be contributing to Lovefraud on a regular basis. In the meantime, I highly recommend her book.
The Other Side of Charm Your Memoir is available on Amazon.com.