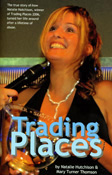 People who have not been entangled in abusive relationships often ask, "Why doesn't she just leave?" By reading Trading Places, by Natalie Hutchison and Mary Turner Thomson, you begin to understand.
Natalie Hutchison was reproached as a child, ignored by her first husband, then physically abused by her second husband. Finally, she decided enough was enough. Natalie escaped the abuse, went back to work, started a business, and in 2006 won the Barclays Bank Trading Places award, given to individuals who overcome tremendous personal adversity to turn their lives around.
Natalie had health problems as an adolescent, and she tells how her parents reacted to her medical issues.You see the seeds of self-doubt being planted. This is how it starts. This is how some women become primed to be victims of abuse.
Then, Natalie tells her story and how she felt—and that, I believe, is the value of this story. It clearly illustrates the thought processes and emotional hooks experienced by the victims of domestic violence.
But this is a story with a happy ending. Natalie learns to trust herself, then makes a leap of faith to start her own business and rebuild her life. She leaves the pain behind to find joy and success.
Trading Places is available now in the Lovefraud Store.