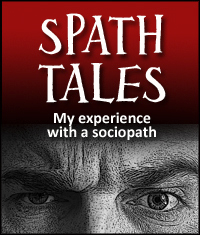 Editor's note: Lovefraud received the following story of sociopathic harassment in an Episcopal Church, endured, amazingly, by one of the church's leaders. Names are changed.
My name's Benjamin, and my same-sex spouse and I are the victims of a sociopath. Even worse, the sociopath is the priest who married us.
My story begins with a well-known Episcopal church. When I arrived there in 2011, it was love at first sight. People were friendly and welcoming, and the church beautiful.
Even better the rector, whom we'll call Dave (not his real name), was personable and gave a great sermon.
It wasn't long before I was asked to run for the vestry, which is the board of directors in an Episcopal church.
My first year on the vestry was a lot of hard work, as I served on the hospitality committee. The days flew by, a hazy blur of coffee hours, weddings, funerals, newcomer events, and more.
My second year on the vestry, I was asked to serve as junior warden, or the person in charge of the physical plant. The role was a great fit, for I'd previously worked as a property manager, and I like doing repairs of every sort.
Unfortunately, the happiness didn't last long.
All was not as it seemed
On February 12, 2014, I learned from the assistant rector that Dave, the rector, had taken a bad fall the night before, and broken his neck. Details were scarce, but he was in serious condition in the hospital.
One thing led to another, and I wound up spending almost every day at the church, trying to keep up with the constant need for physical repairs on the building, as well as issues with church staff.
It also quickly became apparent that all was not as it seemed. Staff complained repeatedly about bullying and harassment. The back contacted me to complain that deposits were repeatedly showing up in amount different than what was reflected on the deposit slips. And right behind the scenes, I discovered that my seemingly friendly church was largely a veneer, with a layer of hatred and bullying by staff and members alike, roiling right beneath the surface.
Of course, I also tried hard to help Dave and his family, repeatedly making dinner for them, undertaking a major project at their home to improve accessibility for Dave upon his eventual return from the hospital, and more.
Priest returns to work — sort of
Dave finally returned to work in May, and I was eager to catch up. But just a few days after his return, Dave took a week to drive to Georgia — even though he was still on partial disability and purportedly unable to work full time. Days afterward, sporting a dark tan, he drove to Massachusetts, ostensibly for the interment of his mother's ashes. He took a week, came back for a couple of days, then took another week to again drive to the beach.
Read more: Everyday sociopaths — master manipulators who live all around us
Needless to say, as a volunteer, by this time I was thinking, "I didn't mind helping, but it would be good if Dave could spend a little time actually doing his job." And the fact his very generous salary had been paid in full during his four months' disability was not lost on me. One of the reasons I was eager to catch up was that church staff had behaved really badly during Dave's absence, including screaming at church members, arguing, fighting, and more. And the issue with the bank deposits loomed large, as did my financial projections, which showed the church lurching into financial crisis in the not distant future.
But as Dave increasingly returned to work, it became increasingly obvious that he would not address any of my concerns. Initially, his responses were non-committal, while later responses were hostile and suggested that my husband and I should find a new church.
The issue of the bank deposits was particularly memorable. Given that church financial records were a shambles, it seemed appropriate to consider bringing it a forensic accountant. Yet when I brought the matter up to Dave, he became visibly agitated, saying loudly, "You didn't actually contact someone about this, did you?"
Asked to be senior warden
That fall, Dave asked me if I would consider serving as senior warden, the highest position on the vestry. I said yes, and thought it would be the perfect opportunity to fix some of my lingering concerns about the church and its governance.
A couple weeks later, Dave asked if we could meet in his office. We did, and he asked me to keep the news about being senior warden to myself. I was non-committal, pointing out that parishioners generally had a good sense of who was emerging as a leader on the vestry, and thus the news usually came as no surprise.
Sure enough, a couple weeks later Dave told he he had changed his mind, and that he had asked a woman — a notorious bully in the parish — to serve as senior warden. I was hurt and upset, but more by the way the issue had been handled, versus the actual outcome.
Over the coming months, I experienced numerous micro-aggressions from Dave. Taken individually, they were innocuous, but when viewed as part of a larger pattern, it was increasingly clear I was dealing with a serial bully, leading me to caution Dave that I would not tolerate further bullying,
Formal complaint with the Diocese
By the following spring, it was obvious that Dave, his new senior warden, and church staff were all behaving badly, so I resigned from the vestry. And after getting a snarky email in response to the news, I made good on my prior warnings, filing a formal complaint with the diocese.
Four weeks later, I got a letter from the diocese, telling me to pound sand. Shortly afterwards, I got an email from Dave, telling me and my husband to find a new church, and announcing that I had been removed from leadership positions within the church.
Days later, I discovered that Dave had instructed church staff to exclude us from the church.
I complained to the diocese about the rector's retaliation, only to be ignored.
Over the coming months, I began attending another church, while maintaining some ties to my previous parish. Among them were several memorial donations, which I made in memory of departed loved ones. Strangely, in every instance, the money simply went missing, never being reflected in the church bulletin, as was customary.
I complained to the diocese again, this time about my money going missing, only to be told that the bishop didn't want to get involved.
It was not long before family members and I began blogging about our experiences, and posting reviews on Yelp and other social media reflecting our experiences.
Call from the local police
But things took a whole new turn when, in December 2017, I got a call from the local police department, wanting to talk with me about supposedly having threatened Dave. I was not very nice during the phone call and refused to discuss these ridiculous allegations.
A few weeks later, I was at work at another area church, when the local sheriff showed up to serve me with notice of a hearing. Specifically, Dave was seeking a protective order, claiming I had threatened him.
During the resulting hearing, Dave admitted several things:
That I had not threatened him.
That we had not spoken or had any contact in more than a year.
That we had not seen each other in public or private in more than a year.
Dave also took various phrases out of context from a blog published by my mother. For example, he took the phrase "psychological torture," which appeared in a scholarly article about the effects of shunning in the church — something I had clearly experienced — and claimed that it was a threat.
To the surprise of many, the court granted the order, even as Dave obviously lied repeatedly during the hearing.
Appealing the court order
I immediately appealed, only to be faced with an attorney, formerly a vestry member, who was representing Dave and the church for free. In his pleadings, he repeatedly lied and deployed inflammatory rhetoric, including referring to the situation as one involving "terrorizing and harassing blog posts," and referencing a fictional church shooting in the mythical town of "Sugarland Texas." Indeed, at one point during pre-trial discovery, Dave claimed he had been contacted repeatedly by my mother, then incontinent, terminally ill, and dealing with a profound anxiety disorder. That was not only improbable, but it simply didn't happen.
This led to Dave and his attorney trying to drag my mother, then barely alive into court for depositions. Fortunately, this didn't happen, as their effort to subpoena my mother violated state law.
During the litigation, Dave's real motive became clear, as he repeatedly tried to force me to stop blogging about his misconduct. Needless to say, that was a waste of his time,. Finally, faced with Mom's declining health and massive legal bills, I finally had to pull the plug on litigation. But I kept on blogging, and continue to this day.
Filing suit against the perjury
In 2019, I again filed suit to address Dave's perjury and abuse of the protective order system. That litigation is still under way, but one theme has been consistent, which is that Dave lies. Constantly. He's lied to judges, denied things he's previously said under oath, and more. In fact, one diocesan official described Dave as "flopping around, like a fish caught in a net."
Meanwhile, I've discovered that Dave and his original attorney repeatedly concealed evidence that would have discredited their case.
But the various lawsuits are difficult, as it's hard for judges to believe that a priest would sit there, dressed as a priest, and lie to their faces. Yet that's exactly what has happened.
Nor is it easy to find people willing to cover the story. One church abuse blog has covered my story repeatedly, but major media often see this as an internal church matter.
It's also fair to say that the larger church has been profoundly unhelpful. Faced with specific examples of Dave's perjury, the church has said it won't get involved absent criminal charges. I guess it's good to know that allegations of illegal behavior are okay in the Episcopal Church for clergy — just don't get arrested. Nor do church officials see just how outrageous their hypocrisy is.
Learn more: Tools for navigating narcissists and other manipulative people
Making things even more difficult is Dave's smear campaign, in which he's told many that I am mentally ill. That ignores the fact that, as a former police officer, I have successfully completed a psychiatric evaluation, a full physical, a polygraph, and a comprehensive background check.
What have I learned from all this?
Most importantly, I've learned that sociopaths are masters at wholesale deception. Not only do they appear as guileless and innocent in public, but they can convince hundreds that they are the victim, not the aggressor. Nor do they have an conscience or connection with reality or truth; they are willing to ruin your life, and that of others. Indeed, although Dave has gone on to another parish, his conduct has left his original church in a state of free-fall. But he's made no effort to tell the truth or come clean about his lies and deception.
I'd also caution any one who thinks they may be dealing with a sociopath that they are adept at recruiting other sociopaths. In fact, they have an amazing ability to find others, even in a huge crowd, to bring them around to their perspective, and to get them to act in ways the rest of us would find repulsive.
Beware!