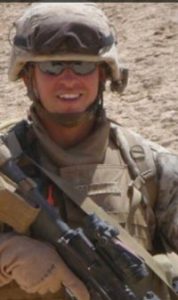 "Yin," a hairstylist from California, went looking for love on Match.com, the online dating site. She thought she found it when she met "David Perez," a divorced major in the Marines with a 10-year-old daughter.
Major Perez told Yin he was deployed to Afghanistan. Then he told her that he needed money. Yin sent him $273,000 — her entire life savings.
Needless to say, the money is gone.
Unfortunately, Yin is not alone. According to the Federal Trade Commission, 21,000 people reported losing money in online dating romance scams last year. How much did they lose? More than $143 million. It's the single largest type of consumer fraud in the country.
Watch the video news report:
Oakland hairstylist gets scammed out of life savings by catfish using US Marine's picture, on ABC7news.com
How romance scams happen
Romance scammers are able to take money from their targets through online dating because they hijack the human bonding system:
We are biologically programmed to seek companionship. Early in our evolution, if we were alone, we died. On some level, we remember that.
We are biologically programmed to trust others. Trust is what holds societies together.
We are biologically programmed to respond when someone asks for our help. This is related to #1 and #2 above.
When we start a relationship, we feel pleasure. This pleasure leads to psychological bonding to our new partner, even if we have never met the person.
When someone proclaims love for us, we want to believe it.
When our partner does something that makes us anxious and fearful — like asking for money — the anxiety and fear makes us feel even more bonded to our partner.
When we feel anxiety and fear, we turn to our partner for reassurance. Of course, a scammer provides reassurance. This makes the psychological bond even stronger.
Yin went through all of this. She says in the interview that she was extremely nervous about sending Perez the money. Following the sociopath playbook, Perez reassured her. Then, once he got the money, he disappeared.
Con artists love romance scams. All they have to do is sweet talk their targets, take their money and disappear. Often the targets are too embarrassed to contact the authorities. If the targets do call the police or file a complaint, the chances that legal authorities will act are slim. For con artists, romance scams are practically risk-free.
So it's up to you to protect yourself. If you plan to do online dating, understand the risks and warning signs. Everything you need to know is in this webinar: