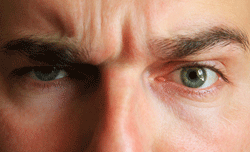 The behavior of some people in your life leaves you shocked and mystified. They tell stories that don't add up, in fact, they flat out lie. They are charming one minute and hateful the next. They hurt you, seemingly on purpose, and then act like nothing happened.
You come to the conclusion that something is wrong with them. They need help. They should go to therapy.
The behavior I described above is typical of psychopathy and other personality disorders. So can therapy help a psychopath?
A few days ago, I posted a link to an extensive article published by The Atlantic called, When Your Child Is a Psychopath, by Barbara Bradley Hagerty. I invite you to read this article, to provide context for the rest of my post.
When Your Child Is a Psychopath, on TheAtlantic.com.
Hagerty tells the story of parents who realize that their adopted daughter is seriously disordered, and the steps they are taking to help her. The article reports all of the current thinking on how personality disorders develop and how they may be treated.
Mendota Center
The story also highlights the Mendota Juvenile Treatment Center in Madison, Wisconsin. This program treats boys between the ages of 12 and 17. They are "the most menacing and recalcitrant" young offenders in the state.
Many of the boys grew up on the streets and resorted to violence in self-defense. The staff at the Mendota Center works very hard to create supportive connections with the boys, so that the boys can become less reactive. They are reasonably successful. Hagerty writes:
What they have done, by trial and error, is achieve something most people thought was impossible: If they haven't cured psychopathy, they've at least tamed it.
Hagerty highlights the case of "Carl," whom she described as "a boy from a good home who seemed wired for violence." On the Psychopathy Checklist – Youth Version, he scored 38 out of 40. That's way high on the scale.
But the Mendota program was able to get him to calm down. After he left, he was pretty much able to stay out of trouble for 10 years. He opened his own business — a funeral home. He seemed to prove that the therapy worked, so the author wanted to meet him in person.
But right before Hagerty was supposed to interview Carl, he was arrested for spousal battery, abandonment and neglect of a child, and witness intimidation.
Then Hagerty describes the experience of Carl's wife — and it's exactly the same story that everyone on Lovefraud tells.
Here's what the Mendota staff says about Carl's case:
This counts as a good outcome for a Mendota guy. He's not going to have a fully healthy adjustment to life, but he's been able to stay mostly within the law. Even this misdemeanor — he's not committing armed robberies or shooting people.
Three key factors
This article in The Atlantic does a good job of describing the problem of juvenile psychopaths and some current attempts to help these children.
Going a step further, can therapy actually help psychopaths? Here are three factors that influence whether therapy is successful in any particular case.
What is the individual's level of disorder?
Psychopathy and other personality disorders are highly genetic. That means a person can be born with a predisposition to the disorder. Whether the disorder actually develops is related to the person's environment, including parenting, siblings and life circumstances.
Some kids have a very strong inborn disposition to disorder, called a strong "genetic insult." In these cases, even the best parenting and therapy may have limited results.
What is the individual's age when therapy starts?
When it comes to helping these kids, the sooner therapy starts, the better. In fact, the best time is when they are infants. Anyone who realizes they've had a child with a psychopath should hold the child a lot, to teach the child how to enjoy human contact. It's the first step in making a difference.
The older a child gets, the more antisocial behavior patterns become ingrained. By the time an individual is an adult, therapy probably won't do any good at all.
In fact, there is research indicating that therapy makes adult psychopaths worse, because they learn new ways to manipulate people.
What is the definition of success?
Typically, in any program that is affiliated with a court system, the standard of success is whether or not an individual can stay out of jail. What this means is that the individual has gotten better at impulse control. It does not mean that the person has developed empathy or a conscience.
So here's the bottom line:
If you're hoping that therapy will help a disordered adult learn to care about others and connect on a human level, well, it's unlikely to happen. So if you learn that someone has been diagnosed with psychopathy or antisocial personality disorder, do not hold out hope that with love and therapy, this person will grow into a loving, caring partner.
Can therapy help children who are at risk of growing up to be disordered adults? Probably, and many people are hopeful, but so far it's not known for sure.